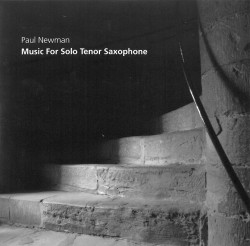 Music for Solo Tenor Saxophone
Paul Newman
Somewhere There (paulnewman1.bandcamp.com)
Local musician/composer Paul Newman performs his tasteful, thoughtful compositions with care, musicality and colour here. Both works are three tracks each, and explore sound quality, phrasing and mostly gentle melodic movement using contemporary musical tools.
Full Circle is immediately attention-grabbing with its opening lengthy bent tones alternating with long silent spaces, allowing the listener time to reflect on the sound. The work leads to a steady almost slow walking pace with clear tones magically performed. The slightly faster second movement takes on a two-instrument conversational feel between high and low tones. The atonal sound of the third section features faster interval leaps and extended technique. Excitement builds with the short staccato repeated notes and melodies ending with minimalistic flavoured long tones.
In As Long As We Remain (for Ken Aldcroft and Braz King), Newman illustrates more of his contemporary, experimental musical side. The work also opens with longer lyrical notes and phrases, leading to a section of high and low tricky pitch jumps. Especially exciting is the final movement. Fluctuating colours, timbres and similar jumps make for a more atonal listening adventure, ending with a glorious, loooong held tone.
This solo music experience is so gratifying due to Newman's confident compositional and performance virtuosity, along with a clear production that captures all his musical subtleties. This is brilliant reflective experimental music driving along a mainstream highway of sound.