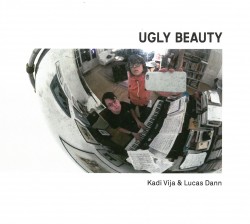 Ugly Beauty
Kadi Vija; Lucas Dann
Texicalli
Kadi Vija and Lucas Dann – a Finnish musician who calls herself a "vocal instrumentalist" and a Canadian pianist of considerable pedigree – might seem like strange bedfellows but in the music of Thelonious Monk on Ugly Beauty, the very oddness of the partnership gives the album's title a distinctly Monkish meaning. The album takes its name from the only waltz among Monk's compositions and it is appropriately kicked off by a relatively rarely played Gallop's Gallop, which, in turn, establishes the extraordinary relationship between these two musicians. For from the very first bars it becomes clear that something astonishingly brilliant is happening here.
Both Vija and Dann ignite Monk's music operating as a partnership of equals, not as vocalist and piano accompanist. Their relationship recalls the enduring one between Monk and his ubiquitous tenor saxophonist, Charlie Rouse, lending credence to Vija's "vocal instrumentalist" persona. In fact, the vocalist melds Rouse in with gorgeous echoes of the great American vocal gymnast, Lauren Newton, who shone with the iconic Vienna Art Orchestra. Meanwhile Dann negotiates the music with magnificent control of fingerwork in these most densely textured and substantially road-tested songs, keeping it close to Monk while managing to ring in the changes. Consider the two wondrous takes on Bemsha Swing.
The haunting compositions supply this duo's usual range of ear-worm music – dancing melodies, chopped rhythms and gorgeous harmonies – with the added element of unusual textures.