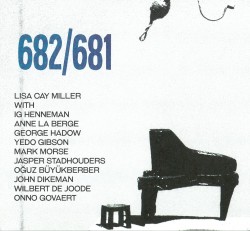 682/681
Lisa Cay Miller
Trytone Records TT559-07 (trytone.org)
682/681 puts a whole new spin on speed-dating, and what it means for Lisa Cay Miller to go Dutch in the process. The recording is made up duo – and in more licentious encounters with ten Amsterdam-based musicians – trio recordings as well. Each piece is the equivalent of tightly bound sticks of dynamite that explode with visceral energy right out of the gates. One would fully expect that some of the encounters would be risqué and at times even a tad unresolved in terms of dénouement, as Miller appears to have set "time" to activate the revolving door.
"Every hour," she states, the Dutch musicians would arrive, and would be instructed expressly to improvise on the fly. It's hardly any surprise that one would never know what to expect. At its best the music is – despite that time constraint – unexpected and brilliant.
Musicians were not held to brevity. Musical phrases might end up long and meandering, and even jagged. The focus is on tonal colour, texture and (with the multiplicity of instrumentation) on timbre as well. Lisa Cay Miller does not always lead the charge. She does not need to because, every time the focus is on the piano, Miller draws on zealous countenance to put the myriad aspects of her pianism front and centre. Depending on who goes first, that instrumentalist might blaze a trail, inviting the other to run the gauntlet or clear quite another path and beckon the other to follow.