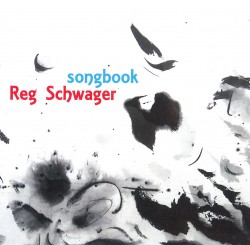 Songbook
Reg Schwager
Jazz from Rant 1751 (jazzfromrant.com)
In his latest release, consummate Canadian jazz guitarist Reg Schwager acts brilliantly as producer, composer and arranger. The well-conceived and performed recording comprises all original compositions by Schwager, with collaborations from: his talented sister, jazz chanteuse Jeannette Lambert; luminous Brazilian vocalist Luanda Jones; and certainly one of Canada's finest jazz singers, John Alcorn. The superb cast of performers on the CD also includes William Sperendai on trumpet, Allison Au on alto saxophone and flute, Mike Murley on tenor saxophone, Brodie West on alto saxophone, Don Thompson and Amanda Tosoff on piano, Steve Wallace on bass, Michel Lambert and Fabio Ragnelli on drums and Manino Costa on percussion.
Schwager's elegant, crisp style and harmonic sophistication are reminiscent (but not derivative of) guitar legends Jim Hall and Emily Remler, and this recording is certainly a portrait of an artist at the peak of his creativity and skill.
Every track here is a work of art, but of particular note are Kisses of Summer – a winning combination of Alcorn's sensuous and evocative baritone, sumptuous compositional ideas, Schwager's incomparable guitar work and jazz legend and multi-instrumentalist Thompson on piano. Co-written with Jones, O que tinha que dar features Schwager's considerable Brazilian chops on full throttle, as vocalist Jones effortlessly draws the listener into her lovely web of bossa rhythms and sexy nuances. Au on alto and Tosoff on piano also shine. On the gorgeous ballad Splintered Dream, co-writer Jeannette Lambert channels the spirit of Peggy Lee with this romantic and melancholy song worthy of the silver screen.