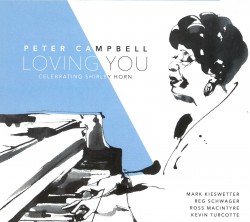 Loving You – Celebrating Shirley Horn
Peter Campbell
Independent (petercampbellmusic.com)
Vocalist Peter Campbell's introduction to the stylings of the great vocalist/pianist Shirley Horn was during his undergraduate days at McGill University. After hearing her 1992 recording Here's to Life, he was greatly impressed and influenced by her musical expressiveness. In this celebration of Horn's recordings, Campbell utilizes her influence as he performs 13 Horn songs with clarity, musicality and respect while simultaneously creating his own sound.
Campbell performs with clear diction, phrasing and vocal colour. He is accompanied by a stellar group of musicians – pianist Mark Kieswetter, guitarist Reg Schwager, bassist Ross MacIntyre and trumpeter Kevin Turcotte. In the opening track A Time for Love, Campbell's effortless wide vocal range is supported by Kieswetter's solid piano stylings and a colourful Turcotte trumpet solo. Bass and guitar provide tasteful solos and support to an emotional vocal performance of Sharing the Night With the Blues. Loving You is highlighted by subtle vocal colour changes in the longer held notes against a sparse piano accompaniment – it's almost like two soloists having a musical chat over beverages! A straightforward ballad rendition of the Piaf classic If You Love Me is memorable for its simplicity and lyric storytelling.
No drums here in the mix, but the rhythmic sense is never lost with the band members' sense of time. Inventive arrangements by Campbell and Kieswetter, and smart instrumental improvisations support Campbell's moving renditions to make this a great musical gift to his musical hero Shirley Horn.