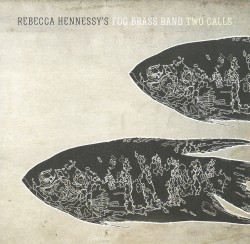 Two Calls
Rebecca Hennessy's FOG Brass Band
Independent RH002 (rebeccahennessy.com)
If the term "less is more" ever elicited a vivid example to go along with it, this disc Two Calls by Rebecca Hennessy's FOG Brass Band would be it. Rarely do performers shine in all their radiant apparel, creating an unmatched nimbleness of sound, as Hennessy and her ensemble. This is no stripped-down interplay but a fulsome recreation of the evocative dialogue between a trumpeter and her band. The ebullient arpeggios and brilliantly gilded glissandi played by Hennessy mimic perfectly the melisma of a singer, only in this instance the trumpet or flugelhorn, in all its brazen or hushed spookiness, recalls the ghosts of masters as Hennessy shines forth.
Among the choicest encounters on this disc are Birds for Free and Why Are You So Sad Booker Little? The rest of the melodically exquisite songs are also beautifully crafted; a combination of ingenious writing and inspired improvisation on the part of Hennessy and her ensemble. The vitality and brilliance of each invention shines forth in the strongest and most appealing orchestral colours. The dynamic range and balance between the instruments is achieved by each artist never seeming to tread on the other's turf. It's almost as if soloing is done in a series of shy dance moves, as saxophone comes into the spotlight while piano is in the shadows; then switching roles as if by magic so that another instrumentalist is highlighted.