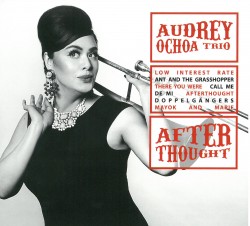 Afterthought
Audrey Ochoa Trio
Chronograph Records CR 055 (chronographrecords.com)
As any dictionary search shows, "feeling" is a word with multiple meanings: a function or the power of perceiving by touch; any particular sensation of this kind; the general state of consciousness considered independently of particular sensations; thoughts affected by emotion… To say that trombonist Audrey Ochoa sets about creating feelings is to suggest, therefore, that somehow she does all of these. All the ingredients are there: tempo, dynamics and emotion, activated by the vibrations as her lips engage the air from her lungs singing, and her fingers extend the gliding tubing. This is the means by which Ochoa creates fine texture and timbre; her sense of spatial scale creates equal parts grace, rhythmic energy, and pure emotion in a kinetic response to combative, hair-trigger dynamic musical contrasts.
For proof of all of the above, look no further than the present recording, Afterthought, a mesmeric album full of swagger, swing and beckoning genius. Audrey Ochoa's inventions are redolent of light-handed glissandos and mercurial arpeggios played with quintessential charm and wit. The disc consists of eight works of unsurpassed beauty. Each song is alive with personal magic and happily shared imaginative possibility. Ochoa's compositions are graceful, fluent and affectionate. Titles such as Low Interest Rate and Doppelgangers are bursting with surprise. Underpinning this excellence is the work of bassist Mike Lent and drummer Sandro Dominelli, whose superb playing adds a feeling of considerable largeness to this fine recording.