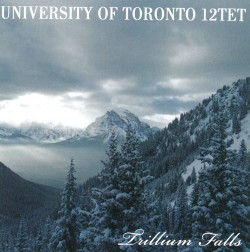 Trillium Falls
University of Toronto 12TET
U of T Jazz (uoftjazz.ca)
It appears that the University of Toronto is, happily, going to be known for more than medicine and other sciences. For now, let fine arts take centre stage as we are treated to an album of exhilarating songs (and some soaring, yet elegiac balladry) – Trillium Falls. Here we have director Terry Promane, low-brass specialist, writer and arranger, as producer of this fine eight-song set. Trillium Falls plays to the strengths of a select group of Promane's students from the bachelor's, master's and doctorate programs from which the light of young stars will no longer remain hidden within the stark, academic environs of Walter Hall.
Truth be told, several members of the band have stepped into Toronto's jazz spotlight before and those who haven't yet done so surely will. This finely crafted unit is more valuable than a proverbial well-oiled machine, although the refined machination of the band is one of its main attractions. It's hard to imagine this ensemble without Emily Denison's trumpet and flugelhorn, or Modibo Keita's trombone or both the Argatoffs' saxophones. And on evidence of her luminous, wordless vocals Jacqueline Teh is sure to journey to the stars. There is, of course, much more for the 12tet to be proud of, such as the riveting Song for Lia written by pianist Noam Lemish, Terry Promane's atmospheric title track and, of course, performances by other members of this wonderful ensemble, not named here for want of space.