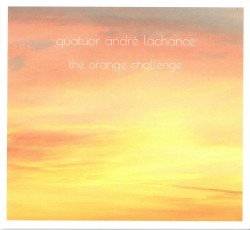 The Orange Challenge
Quatuor André Lachance
Independent AL201601
(andrelachance.com)
The Quebec City-born, Vancouver-based musical journeyman André Lachance may be better known as one of Canada's highly prized younger bassists, but he is reincarnated as a guitarist on The Orange Challenge, which also features his dreamy and distinctive writing. The music here is fascinatingly complex. At its dizzying best, it conjures imagery of the guitar equivalent of dancing figures in ice skating, dispatched consummately by the abstract, dramatic and virtuosic ramblings of Lachance. Rush-hour momentum, caffeine highs, ennui, angst and closing-time loneliness are driven powerfully by the guitarist together with swinging, rock-solid contributions from keyboardist Brad Turner, drumming colourist Joe Poole and the sonic lightning of Chris Gestrin's Moog bass.
It is difficult to single out any chart for special mention, but for sentimental reasons Claude shall receive exactly that. For one, its high and lonesome beauty perfectly describes its inner melancholia. Secondly, it is the perfect dedication to the legendary Canadian drummer Claude Ranger. Understandably, the spotlight is on Poole, who crowns the song with sonic wonders while Lachance caps things with the heart-stopping sadness of his playing. The rest of the music, though, is not as heavy-laden as Claude. Noteworthy are the lovely, swinging miniatures: Life Cycle and The Orange Challenge – the latter informed by an invigorating workout from Turner as well as another fine solo by Poole. The rich and sweet sound and impeccable virtuosity in a spacy and warm acoustic all combine to make this a rather memorable disc.