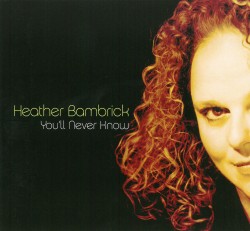 You'll Never Know
Heather Bambrick
Independent HBCD003
(heatherbambrick.ca)
Toronto-based singer and radio personality Heather Bambrick, has released her first solo recording in a decade. Certainly during that time you could have heard her in many live performances, on other recordings and even voicing animated characters, if you were paying attention. But it's good to hear a fresh recording from Bambrick since she's one of the finest jazz singers in this country and her projects are a guaranteed musical treat. Her impeccable technique and heartfelt delivery are on display from the outset with a swing treatment of I Only Have Eyes for You. This track sets the tone for the rest of the album which is mostly mid- to down-tempo covers of songs from the past few decades.
Piano accompanist extraordinaire Mark Kieswetter has arranged most of the songs and he outdoes himself – along with drummer Davide DiRenzo and Bambrick – on the reimagining of Lovers in a Dangerous Time. I didn't think any version of the Bruce Cockburn song could rival the Barenaked Ladies' 2006 cover, but this does, artfully enabled by John Johnson on soprano sax and Ross MacIntyre's perfectly minimalist bass playing.
Bambrick's Newfoundland roots usually make an appearance on her albums in the form of a traditional song and Petty Harbour Bait Skiff does the job here. But the poignant Far from the Home I Love also beautifully tells the tale.