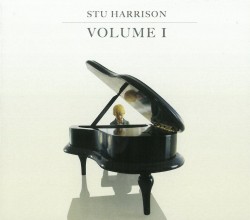 Volume 1
Stu Harrison; Neil Swainson; Terry Clarke
One Night Stand Records 2016-001 (stuharrison.com)
On his debut release as a leader, Stu Harrison has tackled perhaps the biggest challenge for a jazz pianist: a set of time-honoured standards performed in the classic trio format. Harrison, accompanied by veterans Neil Swainson on bass and Terry Clarke on drums, brings a well-rooted sensibility to the album's ten tracks. His deep affinity for the tradition is evident throughout the album and he manages to bring a fresh voice to familiar material.
On The Street Where You Live opens the recording with a fast tempo and a tasty reharmonization of the tune's opening chords. Swainson and Clarke swing hard while Harrison plays compelling single lines, adding left hand chords in the bridge. His playing moves easily from bebop to contemporary as he pushes the harmonic edge of the changes. Clarke lets loose over a vamp before the final melody.
Blame It On My Youth has a funky, gospel-like feel to it. Harrison knows when to play it loose with the harmony, mixing blues and modern influences in his thematic and well-constructed improvisation. In Your Own Sweet Way features a searching rubato intro from Harrison and a superb solo from bassist Swainson.
An imaginative arrangement of Nature Boy opens up the tune's possibilities with a key change creating the illusion of a bridge in a tune that doesn't have one. Harrison's virtuosic triplet and double-time lines illuminate the expanded form.