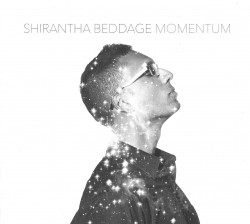 Momentum
Shirantha Beddage
Independent SB 001
(shiranthabeddage.com)
With the release of his latest superb, well-recorded CD, British-born multi-instrumentalist and composer Shirantha Beddage explores the theme of his lifelong fascination with the physical sciences and the cosmic forces that propel us, inhibit us and also flood our lives with powerful waves of attraction and repulsion. All of the tunes here have been composed and arranged by Beddage, who also acts as producer; he performs masterfully on a variety of woodwinds (including clarinet, bass clarinet, alto sax, flute and particularly baritone saxophone) as well as keyboards. The fine lineup of Beddage's musical collaborators include Dave Restivo on piano and keyboards, Mike Downes on acoustic bass, Rich Brown on electric bass and Mark Kelso and Will Kennedy (of Yellowjackets fame) on drums.
Included in the eight engaging original tracks are standouts Pork Chop – a funky, cool, baritone-driven exploration with an agile and percussive piano solo by Restivo as well as plenty of sonic and rhythmic surprises; the multi-textured blues – Drag and Drop – which features Beddage on bass clarinet, moving seamlessly from legato passages to intensely powerful choruses and back again; and the impressive title track, which is aptly dedicated to the Oscar-winning film composer Bernard Herrmann. This composition is non-linear in its approach and seems to musically plumb the depths of human desire and also evoke misty, cinematic images. On the tender closing track, The Long Goodbye, Beddage wrings every last ounce of emotion out of each eloquent phrase.
This thoroughly satisfying recording honours classic jazz motifs and also fearlessly explores contemporary, uncharted waters, instrumentation and compositional possibilities, ensuring that jazz is alive, healthy and in fine hands.