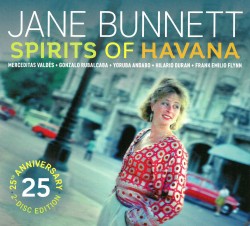 Spirits of Havana: 25th Anniversary 2-Disc Edition
Jane Bunnett
Linus (linusentertainment.ca)
This 25th anniversary re-release consists of Spirits of Havana, Jane Bunnett's landmark album – preceding by six years the first Buena Vista Social Club CD – the follow-up album Chamalongo, plus three previously unreleased tracks. The package is enriched by a 36-page booklet stocked with period photos, plus notes by musicologist Robert Palmer and Cuban music researcher Ned Sublette.
Toronto jazz flutist, saxophonist and bandleader Bunnett's multifaceted exploration of jazz and Afro–Cuban music has earned her numerous accolades over her career. They include multiple Downbeat awards and five JUNO Awards, the Order of Canada and two GRAMMY Award nominations, among many other honours.
In Spirits of Havana, Bunnett brings her considerable jazz flute and soprano chops to the studio, joined by top Cuban musicians including pianists Hilario Duran, Frank Emilio Flynn and Gonzalo Rubalcaba. Infusing the proceedings with particular Afro-Cuban mojo is the late singer Merceditas Valdés (1922-1996) who was key in popularising Afro-Cuban music throughout Latin America. All the tracks are supported by a killer rhythm section, serving to drive each track inexorably onward. We hear jazz layered onto Afro-Cuban songs and rhythms along with traditional Cuban tunes like Yemaya. The album is anchored by a loose-limbed, densely percussion-driven, rendition of Thelonious Monk's Epistrophy with strong soprano sax solos by Bunnett.
Chamalongo (1998) also features Bunnett, pianists Hilario Duran, Frank Emilio Flynn, Toronto trumpeter Larry Cramer, their rhythm section, in addition to the ten-member Cuban Folkloric All-Stars. The repertoire here features traditional Cuban songs, enhanced by two Bunnett compositions, Freedom at Last which is underpinned by advanced jazz harmonies, and Piccolo Dance which indeed showcases a sprightly solo by the composer framed by the Cuban Folkloric All-Stars male singers.
The release of Spirits of Havana in 1991 proved to be a significant musical event, introducing many listeners to the vigour and beauty of Afro-Cuban music and the keen talent of Jane Bunnett. Listening to it again today reveals a palpable collaborative excitement, the result of the confluence of wisely chosen repertoire and incisively brilliant performances from its Canadian and Cuban musicians. The spirit and music on these albums remain un-dulled by the passage of time.