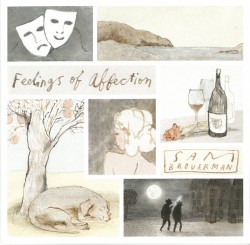 Feelings of Affection
Sam Broverman
Independent (brovermusic.com)
Review
With this release, exquisite vocalist/composer Sam Broverman has continued his theme of presenting the work of the world's finest tunesmiths. Broverman has assembled a fine quintet, and selected five superb standards as well as one excellent original tune,
I Want Everybody to Love Me
. Skilled keyboardist/arranger Mark Kieswetter serves as producer here; also present are John MacMurchy on sax, Tony Quarrington on guitar, Jordan O'Connor on bass and Ernesto Cervini on drums.
Broverman's rendition of On A Clear Day is a huge standout, and his sumptuous baritone (reminiscent of the late, great Mark Murphy) soars and swings with both intimacy and intensity, all the while honouring this marvelous Lerner and Lane Broadway title tune with his flawless interpretation and adherence to the original melodic line. In fact, happily, the listener will find no uninformed, empty-caloried and gratuitous scat singing on this recording.
Also of note is Broverman's take on Michael Franks' Underneath the Apple Tree, which is languid, bluesy and sexy, displaying a range of emotions that Franks himself never chose to express. The closing track, The Ballad of the Sad Young Men, comes from the pens of genius composer/lyricists Fran Landesman and Tommy Wolf. Rarely performed and deeply moving, this song of longing, loss and the dream of redemption can only be properly done (as it is here) by an artist who has lived and experienced life.
This EP is eminently satisfying on every level, and underscores the fact that Broverman continues to be one of the most intriguing, skilled and consummately tasteful jazz vocalists on the scene today.