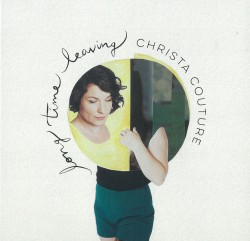 Long Time Leaving
Christa Couture
Black Hen Music BHCD0079 (christacouture.com)
With the release of her fourth CD, Edmonton-based, eclectic, roots-inspired chanteuse, pianist and gifted composer Christa Couture has recorded a brilliant career-defining project. Featuring all original music, and described by Couture as a "celebration of ordinary heartache," she has almost cinematically plumbed the depths of her own inspiring journey (teenage cancer, the unimaginable loss of two children and more) and transmuted those experiences into a pan-relatable, uplifting and delightfully quirky project. Recorded in Nashville and skillfully produced by JUNO-winning guitarist/multi-instrumentalist Steve Dawson, the CD includes members of Blackie and The Rodeo Kings, notably Dawson on pedal steel and electric guitars, John Dymond on bass, Gary Craig on drums and venerable Nashville-based fiddler, Fats Kaplin.
There is no wallowing in self-pity here. In fact, the instrumentation, arrangements, compositions and Couture's lithe, sheer, roots-influenced vocals all underscore the unconquerable human spirit – and make this recording an appropriate listening choice for almost any mood or activity.
Of special note are The Slaughter, with its haunting, almost childlike, echo-infused vocals and a lyric that ponders breakups with both men and women; Michigan Postscript – a melodic travelling song with a lilting vocal and stunning slide work by Dawson; Zookeeper – replete with fine acoustic piano and heavy surf guitar saturating this insightful and witty ode to couples therapy; and Lovely Like You – a sweet stunner featuring the honeyed tones of fiddler Kaplin. Also memorable is the closing track, Aux Oiseaux – a charming, pristine and deliciously melancholy anthem of survival and the art of learning to embrace life again – no matter what has transpired.