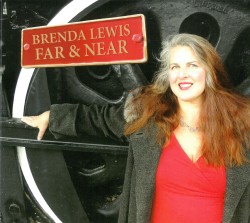 Far & Near
Brenda Lewis
Independent BL-00220 (brendalewis.ca)
With her second jazz-inspired CD release (and fifth as a leader), rich and sonorous vocalist Brenda Lewis has presented an exceptional and intriguing recording. Co-produced by Lewis and longtime collaborator, guitarist/keyboardist Margaret Stowe, she has created a compellingly stripped-down performance and recording unit, which harkens back not only to Neolithic and contemporary jazz, but also embraces timeless roots, blues, gospel and Afrocentric folk musics. All of the arrangements here involve a Spartan but potent instrumentation of voice, electric guitar, keyboards and the contributions of multi-instrumentalist Jeff Bird on harmonica, mandolin, bass and percussion.
Lewis fires her opening salvo with an appealing and no-nonsense take on Do You Know What it Means to Miss New Orleans (featuring Bird on a soulful harmonica solo). Her adept jazz sensibility (as well as her variegated alto voice) is beautifully displayed on the classic jazz standard A Nightingale Sang in Berkeley Square. Lewis wisely includes a tip of the hat to her folk-ish/Western swing roots with the old warhorse, Cow Cow Boogie (which also features hearty solos from Bird and Stowe). Of special note is the jaunty He Surprises Me and the lovely I Wave Bye-Bye, in which Lewis evokes an almost Celtic aura of heartbreak and longing.
Very few vocalists would have the courage to present themselves in such an exposing, bare-bones way, but Lewis is refreshingly fearless, committed and transparent in her approach and taste; her consummate vocal skill shines throughout.