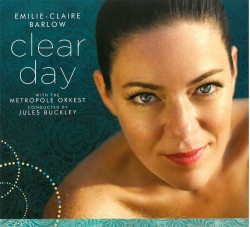 Clear Day
Emilie-Claire Barlow; ECB Band; Metropole Orkest; Jules Buckley
eOne eCD-CD5841 (emilieclairebarlow.com)
Arguably, multiple-award-winning jazz vocalist, Emilie-Claire Barlow, is one of the finest singer/musicians that Canada has ever produced. Blessed with an impressive musical genome, Barlow has consistently challenged herself, all the while continuing to mature into the impressive and accomplished artist that she is today. With her 11th recording, Barlow has partnered her stunning voice and arranging skills with the world-renowned Metropole Orkest conducted by Jules Buckley.
Barlow and Steve Webster act as Producers here, and the eclectic programme is comprised of material from the unlikely musical bedfellows of Pat Metheny, Coldplay, Brad Mehldau, David Bowie, Joni Mitchell, Canadian pianist/composer Gord Sheard and more. Described by Barlow herself as a "personal journey over the last four years," this recording is a portrait of the artist as a mature women poised at the full apex of her skill, talent, inspiration and power. Also included in this recording are arrangements featuring Barlow's excellent band, with Reg Schwager on guitar, Jon Maharaj on bass, Chris Donnelly on piano, Larnell Lewis on drums and Kelly Jefferson on reeds.
The CD opens with the spacious and magical Amundsen by noted bassist/composer Shelly Berger, which segues seamlessly into a dynamic and fresh arrangement of the near title-song, Burton Lane's On a Clear Day. Other impressive tracks include a tender, string-laden take on Coldplay's Fix You and a sensual, jazz-infused version of Paul Simon's Feelin' Groovy (replete with a masterful guitar solo from Schwager). Of special note is Barlow's arrangement of Joni Mitchell's I Don't Know Where I Stand, sung here with the soaring, crystalline purity of her magnificent vocal instrument.