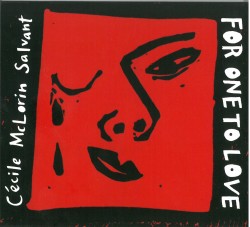 For One to Love
Cecile McLorin Salvant
Justin Time JTR 8593-2 justin-time.com
American singer Cecile McLorin Salvant put the jazz world on notice with her first major release in 2013. With a voice that is at once fresh and traditional, Salvant won numerous accolades such as Female Vocalist of the Year from the Jazz Journalists Association, Jazz Album of the Year by the Annual DownBeat International Critics Poll and a Grammy nomination. Still only in her mid-20s, the bar was set high for her sophomore release – and For One to Love is a continuation on the same fine musical path she set for herself.
The impeccable pitch, diction and control are still there, as are top-notch band mates. The choice of material is similar to the first release – a few standards wrought in interesting new ways, such as The Trolley Song, made famous by Judy Garland and which includes a brief, amusing imitation of Garland. Also, in what's becoming a bit of a trademark, Salvant takes a run at some low down dirty blues – like Growlin' Dan. These aren't my favourites, largely because Salvant's classically trained voice just doesn't suit the material, but they're fun. And that's true of a lot of Salvant's delivery – theatrical and broad and a little flighty, never really landing on one style or sound. I imagine she's very entertaining to see live. There's also a sprinkling of original compositions and the opener Fog really exemplifies the whole album – artful, skilled and not entirely certain what it wants to be.