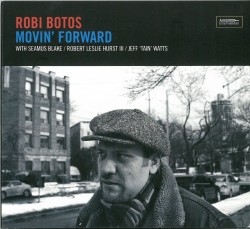 Movin' Forward
Robi Botos
A440 Entertainment A440 010 (robibotos.com)
Robi Botos, the highly respected jazz piano player, has released a fourth CD as leader. Since arriving in Canada in 1998 from his native Hungary he has become one of the most in-demand piano players in Toronto for both recordings and live gigs. His mentoring by the great Oscar Peterson shows in his prodigious but not overly showy technique. Movin' Forward is mostly originals – with the exception of Close to You by Bacharach/David and the standard Softly as in a Morning Sunrise – and, like his mentor, Botos' songwriting style is melodic and swinging. There are influences of funk and Eastern European music and some tracks edge over into modern, but the style is mostly mainstream and accessible.
The album opens with the New Orleans-style EurOrleans then goes more hard-driving with CapTAIN KirkLAND, a tribute to Kenny Kirkland, a friend of Jeff "Tain" Watts who is featured on the track. Botos' bandmates for Movin' Forward are among the American jazz elite – in addition to Watts on drums, Robert Leslie Hurst III is on bass and Seamus Blake plays saxes and EWI. These multiple Grammy Award-winning players bring authority and facility to the tracks as they are given ample room to stretch, both on the lovely ballads such as Violet (a tribute to Botos' wife) and the hard-driving Heisenberg which I can only assume is a tribute to the TV drama Breaking Bad. Which shows that inspiration can come from just about anywhere.