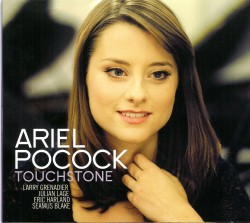 Touchstone
Ariel Pocock
Justin Time JTR 8592-2 (arielpocock.com)
For her debut CD, young, fresh and talented keyboardist/vocalist/composer/arranger Ariel Pocock has assembled a team of skilled colleagues – beginning with veteran Producer Matt Pierson, who, during his tenure at Warner Bros. Records, discovered and successfully produced an array of today's top jazz luminaries, including Joshua Redman and Brad Mehldau. Pocock's instrumental colleagues include some of our finest contemporary jazz artists, including Larry Grenadier on bass, Julian Lage on guitar, Eric Harland on drums and percussion and Seamus Blake on tenor saxophone. Indeed, Pierson and Pocock's indisputable and intuitive good taste has informed every track of this fine opening salvo.
Like many emerging artists, Pocock feels free to incorporate a plethora of musical styles, and although firmly rooted in jazz, she seems to reject categorization – freely drawing upon the musical influences of Cuban and Brazilian folk music, standards from The Great American Songbook, iconic jazz composers such as Keith Jarrett and Thelonious Monk, and the contributions of meta-genre pop artists Tom Waits, Randy Newman and James Taylor.
Whether Pocock is scat singing, rendering a powerful lyric or exercising her considerable keyboard chops, her innate musicality shines through. There is so much "right" about this recording, that it is a challenge to distill it into comments about just a few of the exceptional tracks… but clear triumphs include Bob Dorough's Devil May Care, Randy Newman's Real Emotional Girl, Charles Mingus' Ugly Beauty/Still We Dream and Kate Bush's Mother Stands for Comfort.
No doubt, this auspicious debut bodes well for Pocock's forthcoming long and relevant artistic career.