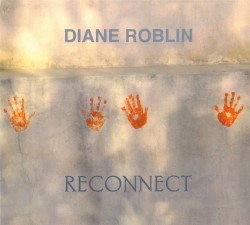 Reconnect
Diane Roblin
Independent (dianeroblin.com)
Following a more than 20-year intermission, talented keyboardist and composer Diane Roblin has made a strong re-emergence into the jazz world with the release of her new independent recording Reconnect. The well-produced CD is comprised of ten original compositions by Roblin that run the gamut from funk and fusion to soul and jazz. Roblin has also surrounded herself with creative and dynamic musicians (Jeff King on tenor, Howard Spring on guitar, Russ Boswell on bass and Roger Travassos on drums) who easily and intuitively fit into her eclectic and invigorating musical vision.
Reconnect kicks off with In the Beginning – a vigorous funk exploration that calls to mind electric-era Herbie Hancock. There is nothing dainty about Roblin's attack. She is a facile and deeply emotional keyboardist who establishes her musical territory with a muscular performance on the Fender Rhodes and technical skill on the acoustic piano. Her pianistic virtuosity is clearly evident on Suspend Yourself – a complex piece of work in 7/4, involving a trip to the etheric realms, as well as a brash dose of fusoid and progressive jazz.
Of particular beauty and depth is Ballad in 3/4. The haunting melodic line and King's sonorous tenor work are an evocative treat. On Reconnect, Roblin also includes Tune for Fraser – a stunning acoustic piano solo piece dedicated to her late musician husband, Fraser Finlayson. This brave composition seems to emotionally expose the artist as she transcends, through her music, all of the stages of grief and finally arrives at ultimate redemption.