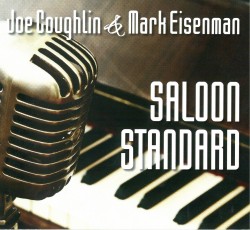 Saloon Standard
Joe Coughlin & Mark Eisenman
indiepool JCJAZZ 008 (joecoughlinjazz.com)
With the release of Saloon Standard, veteran BC-based Canadian jazz vocalist Joe Coughlin and skilled pianist/arranger Mark Eisenman have done the near-impossible – created a triumph of a recording that not only celebrates the art of vocal jazz, but honours the symbiotic relationship between piano and voice, all the while thrilling us with 13 tracks that not only venerate the jazz "standard" but break our hearts with almost unbearable beauty and fathomless emotional subtext.
Although Coughlin and Eisenman (who have worked together since their 20s) have created a program of finely crafted ballads, there is no "pearls before swine" posing here. Whether Coughlin is plying his stirring, voluptuous baritone to the rarely performed movie theme, The Bad and the Beautiful (a tune that proved too vocally difficult for Tony Bennett, by the way) or plumbing the depths of heartbreak and renewal with Michel LeGrand/Alan and Marilyn Bergman's You Must Believe in Spring, every note and every nuance is totally accessible and eminently satisfying... no gratuitous scat singing and other tasteless vocal grandstanding are welcome in the "Saloon" tradition of Joe Coughlin.
Other tasty tracks include Rogers and Hart's You're Nearer from the 1940 film Too Many Girls; a lilting, almost bluesy take on Bernstein/Comden and Green's Lucky to be Me from the hit Judy Holliday musical Bells Are Ringing; Cole Porter's romantic Dream Dancing (sung with the rarely performed verse) and Hague/Horwitt's moving ballad Young and Foolish.
This CD is of such a high level of excellence that it would be well-served with a Part Two!