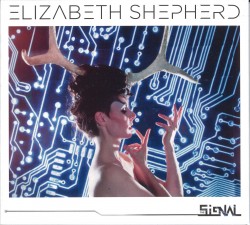 Signal
Elizabeth Shepherd
Linus 270197 (elizabethshepherd.com)
Elizabeth Shepherd continues on her unique musical path with her latest album Signal. Straddling genres such as jazz, lounge and soul (think Björk meets James Blake meets Stevie Wonder) the talented keyboardist, songwriter and singer combines funky rhythms, moody modes and thoughtful, obscure lyrics to create her sound. Co-produced by Shepherd and John Maclean, the liberal use of effects, samples and unusual instruments enrich the soundscape and elucidate the messages of the songs, such as on Another Day which starts with a news clip about a race riot before launching into a chanty groove. Words from folk-blues legend Ledbelly open B.T. Cotton and the use of steel pan drums keeps us on our sonic toes. What's Happening is surely one of the prettiest songs ever written about political ugliness.
Many accomplished players who are regulars with Shepherd's band fill out the tracks including Colin Kingsmore on drums and Ross McIntyre on bass. Guests include guitarist and Herbie Hancock band-member, Lionel Loueke, and the velvety voiced Alex Samaras. Shepherd favours minor keys and edgy harmonic relationships and by about the seventh track I found myself craving some nice cheery major chords. But if you're in the frame of mind for a heady, complex listen, Signal will do the job well. Shepherd is touring in Canada, the U.S. and Mexico this fall.
Concert Note: Shepherd performs with Kingsmore, Kevin Turcotte, Thom Gill and Scott Kemp at the Music Gallery on November 15.