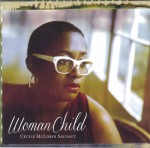 WomanChild
Cecile McLorin Salvant
Justin Time JTR 8580-2
justin-time.com
When the American singer Cécile McLorin Salvant won the prestigious Thelonious Monk International Jazz Vocal Competition in 2010, the buzz around her was massive. Relatively young and coming seemingly out of nowhere, she impressed the judges with her poise and talent. The praise then and since has been effusive (on a recent cover of Jazz News she was referred to as simply "The Voice") and it's all well deserved.
The sounds of many legendary jazz singers can be heard in Salvant's voice — most apparently Sarah Vaughan — in particular in the pure, horn-like quality that is one of the hallmarks of a great vocal talent. Confident and sure-footed in both traditional and modern styles, she gets basic and loose on the bluesy St. Louis Gal and the New Orleans-style Nobody, then edgy and outside the box on the title track, WomanChild, her own composition. Her sophistication quotient goes up even a few more notches when she sings easily and naturally in French on Le Front Caché Sur Tes Genoux.
The overall feeling of the album is masterful and that owes a lot to Salvant's band mates. She has chosen to work with some very experienced players — like Rodney Whitaker, bass, Herlin Riley, drums, and James Chirillo, guitar and banjo — who bring a steady hand to the mix, while piano player Aaron Diehl is, like Salvant, a rising star in the jazz world. For fans who may worry about the art form's future, this album is a sign it's in very good hands.