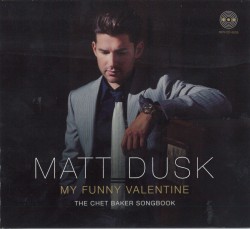 My Funny Valentine –
The Chet Baker Songbook
Matt Dusk
Eone Music ROY-CD-5626
mattdusk.com
Toronto-based singer Matt Dusk has just released My Funny Valentine: The Chet Baker Songbook. Given the title, one might think the album would bear some resemblance to the late singer and trumpet player's work. While many of the songs on the disc were signatures for Baker, he was not a songwriter and these are standards that have been covered by many, many performers over the years. Additionally, Dusk — a self-described crooner — has a very different singing style than Baker, who had a quiet and vulnerable approach to song delivery. To their credit, neither Dusk nor guest trumpeters Arturo Sandoval and Guido Basso attempt to imitate Baker's sound. All are fine musicians in their own right and take their own approach.
So if it's not really about Chet Baker then what is it? Dusk and team (co-producers Terry Sawchuk and Shelly Berger) set out to "recreate a nostalgic musical experience" by producing a substantial album with a musical narrative intended to take the listener on a journey. In that they have succeeded utterly. The beautiful artwork and photographs — mostly of Dusk in various suits and settings — evoke years gone by. And the music, complete with horns and sweeping orchestral arrangements, has style and heft. Baker was a poster boy for the spare, laid back West Coast/cool jazz sound and his most popular music was performed with just a quartet. So, certainly enjoy Dusk's album on its own merits, but listen to the original for a sense of what Baker was all about.