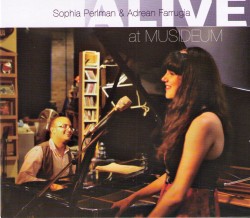 Alive at Musideum
Sophia Perlman; Adrean Farrugia
Independent #AS1012 (www.sophiaperlman.com)
This latest CD project from luminous vocalist Sophia Perlman and gifted pianist Adrean Farrugia was recorded "Live" at an intimate, evocative venue boasting one of Toronto's finest pianos – the ideal spot for capturing this intimate, eclectic and thoroughly splendid performance. Perlman and Farrugia have a profound chemistry and sensitivity to their individual creative modalities, and the collection of tunes is diverse, to say the least.
The duo explores compositions from such far-flung artists as David Bowie, Gershwin, Thelonious Monk and Geri Allen. These are bold, original choices in repertoire – rendered with an intuitive, high musicality and purity of intent that is reminiscent of the work of Alan Broadbent and the late Irene Kral.
Standouts include a clever, contemporized reworking of Gershwin's But Not For Me, featuring a rhythmic piano part and Perlman's horn-like scat singing. Also, her rich, sensual, alto voice caresses the melody of a rarely performed Ellington composition, All Too Soon. Certainly one of the most interesting tracks is the duo's interpretation of David Bowie's anthem against the mundane, Life on Mars. Also gorgeous – albeit deliciously melancholy – is a legato take on the Tin Pan Alley classic After You've Gone, and Farrugia's dynamic solo piano performance on Geri Allen's Feed the Fire clearly establishes his position as one of the finest and most technically gifted pianists on the scene today.
Kudos must go to Donald Quan and Roger Sader for their superb job of onsite recording. Every lovely, melodic and complex nuance has been beautifully captured.