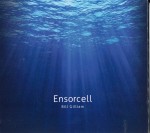 Ensorcell
Bill Gilliam
Melos Production MPBG-004
www.bill-gilliam.com
Bill Gilliam's experience and his output since the mid-80s has spanned formal composition, jazz and jazz-oriented improvisation as well as electro-acoustic music and music-visual media. His new recording features the kind of music-making that one suspects is closest to his heart: it's a very personal-sounding collection of solo piano improvisations.
Gilliam has aimed to bring his composer's sense of form and continuity to the improvisational process so that each of the pieces in the recording has its own distinct character. Nevertheless, separate compositions often seem to flow into and resemble one another, but this only enhances the enjoyment of listening to this album start-to-finish. While, in earlier work, the jazz element in Gilliam's compositions included a strongly pulse-based rhythmic aspect, this recording tends more toward an elastic, rubato approach that is closer to the post-Romantic European tradition than to jazz. Meanwhile, his harmonies blend 20th century classical and jazz sounds in a convincing, comfortable modal-chromatic style.
The music communicates the integrated joy of moment-to-moment composition and, especially, of piano playing: Gilliam's love of his instrument both as performer and composer-improviser is this album's major attraction. Respect and affection for the sound of the piano has also guided the technical side of the project, resulting in a warm, sonically accurate and dynamic recording.