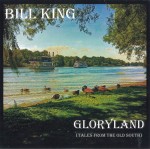 Gloryland (Tales from the Old South)
Bill King
Independent
www.billkingpiano.com
Versatile veteran pianist/composer Bill King's latest CD is a deeply personal, musical recollection of his boyhood experiences growing up in the American Deep South and is certainly one of the most interesting projects of the year. Comprised of 12 beautifully recorded original solo piano compositions, all of the material is evocative and dripping with magnolias, sugarcane and southern gothica. King is a thrilling and deeply sensitive pianist, and he freely draws from elements of jazz, blues, boogie-woogie, sacred hymns and ragtime motifs.
Beneath the leafy, bucolic images of the Old South lurks a dark subtext of racism, religious intolerance, poverty, injustice and ignorance. Eviscerated economically by the Civil War and later by the Great Depression, the perplexing dichotomies of the Southland are fully explored and captured in this profound sonic photo album.
Particularly moving are the slow rag-infused The Devil Has 666 Fingers and the heartbreakingly lovely Faces in a Field of Trouble, which is tinged with the influence of King's former teacher and mentor, Dr. Oscar Peterson. King steams down the Mississippi with The Gambler and The Riverboat and the soulful title track invokes a gentler side of fundamentalist Christianity. Also exquisite are the mournful The Hangman and the eerie One Blue Sheet Hanging in the Wind.
The piano itself is an equal collaborator here, and then as now, it assumes the role of cultural focal point – so important to the dreams and creativity of the small, rural, communities labouring out their lives below the Mason-Dixon Line.