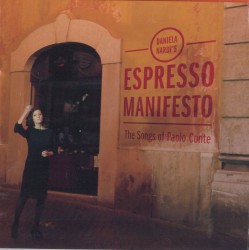 Espresso Manifesto –
The Songs of Paolo Conte
Daniela Nardi
Independent MIN004
www.espressomanifesto.com
Paolo Conte is an iconic Italian singer-songwriter whose work epitomizes a certain style and era in European pop culture. Daniela Nardi is a Toronto-based singer who, when searching for a way to pay musical homage to her Italian roots, landed on putting together a collection of Conte's songs. Covering work by a singer with such a strong male presence as Conte — he's a little like the Leonard Cohen of Italy — is a challenge for a female singer and Nardi rises to that challenge by finding the universal themes of longing and loss (and gelato!) in his songs. Also, Nardi travelled to Umbria to record the disc with a handful of Italian musicians, which lends an authentic feel. Espresso Manifesto opens with the most well-known of Conte's tunes Via Con Me (Come Away with Me), a light-hearted plea about giving oneself over to adventure, then moves through a charming but sometimes dark exploration of life and love.
Like the drink manifested here, Nardi's voice is deep and earthy and singing in Italian brings out her expressiveness. Lyrics and liner notes explaining the songs for the non-Italian speakers are not included with the CD but available on danielanardi.com. So you can read up on each song to understand what it's all about or you can just let the album wash over you like a seductive Mediterranean wave.