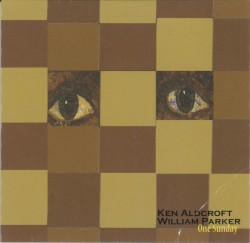 One Sunday
Ken Aldcroft; William Parker
Trio Records and Productions
TRP-DS01-014
www.kenaldcroft.com
The performances of prolific Toronto improviser/guitarist/composer Ken Aldcroft and New York City's double bass great William Parker here leave me speechless. The two improvisers weave a sonic journey through rhythm, colour, melody and ideas that just gets better with each listening.
Both performers utilize their strong jazz roots to foray into spirited uncharted territories. Sweet Beverley, one of two 20 something minute offerings, is a doll of a piece. Its laid back nature sets the mood for a musical conversation on diverse topics. The phrasing is clear and subtle, allowing each intricate idea, whether long or short, to grasp one's attention. There is a sound surprise around every corner. Also outstanding is the shorter track Zum Schneide, where Parker plays a trombonium [an instrument shaped like a baritone horn including its three valves, but with the bore and tube length dimensions of a tenor trombone]. The opening passage cleverly refers to a classical music fanfare, and then abruptly changes course to slides, runs and garage band noise. It is a fine example of where free improvised music is headed. Parker also performs on shakuhachi on this five track release.
For listeners unaccustomed to the more atonal sense of free improvisation, the music here might be a stretch to understand but worth the patience to experience. Aldcroft and Parker are brilliant masters of their art form — one may not be able to whistle along with the "tunes" but it is the collective sounds of their "in the moment" music creations that resonate so impeccably.