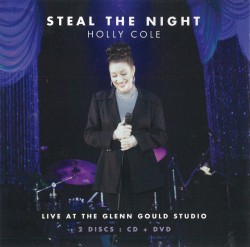 Steal the Night
Holly Cole
Alert Music Inc. 61528-10449
For a performer with as much stage presence as veteran Toronto jazz singer Holly Cole, a DVD-CD package of a live performance seems like an ideal vehicle. Steal the Night was recorded live at Glenn Gould Studio in 2011, and is a fine representation of the gamut of musical charms of Cole and bandmates John Johnson, reeds, Davide DiRenzo, drums, Rob Piltch, guitar, Aaron Davis, piano and David Piltch, bass.
We're treated to some of her classic repertoire such as Calling You and I Can See Clearly Now plus the newer You've Got a Secret and a smokin' version of Charade. However with most of her between-song patter edited out of the footage, Cole's big personality doesn't come through as much as one might hope. So where the DVD really shines is in the short documentaries in the extras section. Holly in Japan is a fascinating glimpse into a slice of Japanese culture and Cole's many fans there. Coming to Toronto is a mini-biography with interviews of Cole, jazz broadcaster Ross Porter and, most revealingly, Cole's family. Best of all The Trio digs into the evolution of the unique sound of the band and provides a well-deserved tribute to the contributions long-time collaborators Aaron Davis and David Piltch made to the musical force that is Holly Cole.