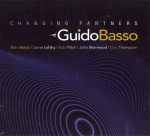 Is it possible to sound better than perfect? This improbable intellectual puzzle came to mind thanks to the new CD from Guido Basso, his first in eight years. His work on trumpet and flugelhorn has always been exemplary but he's surely attained new heights on Changing Partners (Rhythm Tracks RTCD0015 www.cdbaby.com), an 11-tune excursion recorded over two years with five top-notch collaborators in duet formats. These settings, with no plan, no charts and no rehearsal, result in playing that's often passionately inspirational, with wit and bravura technique added to his customary mellow fluency in all genres. His colleagues are pianists Robi Botos, John Sherwood and Don Thompson plus guitarists Lorne Lofsky and Rob Piltch. Botos is a particularly effective foil on three cuts, notably a sparkling There Is No Greater Love and a frolicking Down By The Riverside but there are no duds here. On Goodbye Basso adds a moving segment employing late bandleader Rob McConnell's valve trombone in honour of his long-time associate. Apparently there's plenty of material available for a second volume. Do it soon.
Another stylish veteran trumpeter is Montreal's Kevin Dean, always eloquent and always striking. On Kevin Dean Quartet - A Message From The Dean (Cellar Live CL060711 www.cellarlive.com) he demonstrates an assured, flowing yet unhurried approach with a big, round sound that has none of the rough edges you'd expect in a jazzer schooled in hard bop. He's also an imaginative composer, penning all ten tunes on which he has well-seasoned support from splendid pianist Andre White, bass Alex Walkington and drummer Dave Laing. The opening Famous Last Words is particularly impressive, Gone By Morning brisk and bracing with Dean's contribution seemingly effortless despite daunting structure, in marked contrast to the yearning ballads Ultra Sounds and Thank You Notes. Quality is high throughout, concluding with the lovely Epitaph.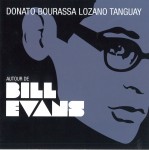 More great music emanates from Montreal on Donato Bourassa Lozano Tanguay - Autour de Bill Evans (Effendi FND112 www.effendirecords.com), an all-star quartet showcasing the current cornerstones of that city's superior jazz history. The group led by excellent pianist François Bourassa tackles the repertoire of Bill Evans, the lyrical master who died in 1980, although of the disc's 11 tunes just four are Evans originals. This tribute pushes the right buttons, sounds classic yet up-to-date and highlights the considerable talents of the team, with saxman Frank Lozano adept at capturing Evans' melodic strengths, bass Michel Donato's rich deep tones proving a super-strong anchor, drummer Pierre Tanguay exercising his precise subtleties and the leader his expansive imagination and crafted harmonies. The band's easy cohesion and flair for innovation within the tradition will ensure this album is a candidate for top ten year-ending lists.
CD Note: Effendi has recently issued four more classy discs by Montreal headliners, groups led by Lozano (Destin), pianist Josh Rager (Kananaskis), saxophonist Alexandre Cote (Transitions) and bassist Alain Bédard (Homos Pugnax).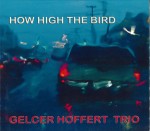 Pianist Paul Hoffert and drummer Jim Gelcer have long paid their musical dues (Hoffert a founder of Lighthouse) but their jazz inclinations get a workout here on Gelcer Hoffert Trio - How High The Bird (Breaking Records 110110 www.paulhoffert.ca), an 11-track exploration combining classic standards, much unison playing by the principals (bass duties shared by Lew Mele, Russ Boswell and Justin Gray) and a large dose of Thelonious Monk. The combinations don't always work – the opening All Weep For Blues has definitive parts of All Blues and Willow Weep For Me and so on – but this seems just enforced cleverness rather than boundary-breaking concept. Elsewhere the unison work is more appealing, while the basics of Monk's great compositions like Straight No Chaser and Well You Needn't need no tampering and are handled well, as is Moe Koffman's hit Swinging Shepherd Blues (done in 5/4). I didn't care for Gelcer's channelling Chet Baker vocals.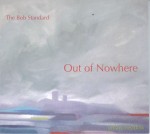 Bob Stevenson is probably better known hereabouts as Robert Stevenson, long a force in classical circles as former artistic director of innovative Arraymusic and many other roles. He's also into jazz improv, demonstrated on The Bob Standard - Out Of Nowhere (Urban Meadow www.urbanmeadow.ca), his clarinet aided by guitarist Justin Haynes, bassist Victor Bateman and eclectic percussionist Blair Mackay. They tackle ten standards, trying to make the chestnuts palatable in different ways – like avant-garde music without its frequent ventures into the ugly. Results can be bizarre; witness the ensemble output on Out Of Nowhere and the sonic massacre perpetrated on Softly, As In A Morning Sunrise. The leader hews closest to familiar melodies while his subversive team assaults harmony, rhythm and a whole lot more. However, this risky venture is always interesting; Caravan works.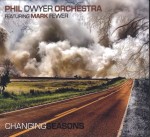 Jazz with strings was a popular experiment when bebop arrived, but mega-talented saxophonist, pianist and composer Phil Dwyer has gone much further, creating a violin concerto integrating jazz and classical music. On the enterprising – and beautifully recorded – Phil Dwyer Orchestra - Changing Seasons (Alma ACD10252 www.almarecords.com) he employs 21 strings led by admirable violinist Mark Fewer and a 17-piece jazz band. It's a seamless showcase, a pleasing companion to baroque composer Vivaldi's 18th century triumph, The Four Seasons.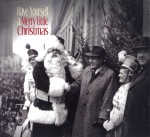 If you must have Christmas fare but don't want to cringe at the season's usual mawkish musical sentiments, get Have Yourself A Merry Little Christmas (Justin Time JUST 245-2 www.justin-time.com). The album features performers such as Oliver Jones, Diana Krall, Rob McConnell, Montreal's Jubilation Gospel Choir and some fine but undervalued singers.