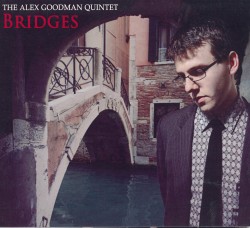 It's difficult to be stirred nowadays by much new jazz from young musicians, especially if led by a guitarist, but Alex Goodman has done that with his third album as leader. The Alex Goodman Quintet - Bridges (www.alexgoodman.ca) benefits considerably from his compositional ability – he contributes eight attractive cuts, three intros and arranged tunes by Chopin and Bartók. It's no surprise that classical music's virtues figure prominently here, underscored by the degree of group intimacy, cohesion and elegant execution – take a bow Nick Morgan (woodwinds), Darcy Myronuk (piano), Dan Fortin (bass) and Maxwell Roach (drums). Their subtle chemistry points to a collective understanding mindful of the iconic Modern Jazz Quartet. The plethora of enterprising, shape-changing structures has real appeal, as does the evident attention to detail – the only bust is a Chopin nocturne that inhibits invention (the Bartók dance fares better.) The complexities are never excessive, the cerebral soloing is superb and Tristano Bach has to be the coolest bebop ever.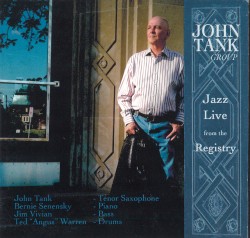 Canadian tenor saxophonist John Tank has exiled himself for decades in New York, but on occasion sneaks back to tour. One recent visit spawned the excellent John Tank Group - Jazz Live From The Registry (OlivOr 20112 www.johntank.com), a weighty 75 minute session at the Kitchener venue that illuminates the talents he displayed while a Toronto staple in the early 1970s. Backed by contemporary staples in Bernie Senensky (piano), Jim Vivian (bass) and Ted Warren (drums), his bold technique and big, warm sound expressing consistently creative ideas is very appealing, though aggressive notions are never out of control. Think Sonny Rollins, as well you might during the long, boiling opener Johtanson. Senensky as always is a perfect and often-exhilarating foil throughout the seven long tunes, four by Tank and two by him. The joint jumps with Tank's bruising What Is That Thing With The Swing and hard-nosed New Irk, New Work. This band crackles from start to finish.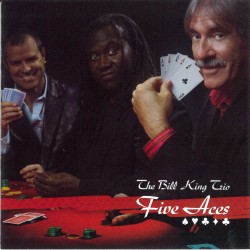 Need a lift from still-mourning-summer gloom? The versatile pianist and jazz entrepreneur relives his personal jazz and blues roots on The Bill King Trio - Five Aces (7Arts 0021 www.billkingpiano.com) on a bustling dozen tracks (eight strong originals by him) that feature skilled sidemen in electric bassist Collin Barrett and everywhere-man drummer Mark Kelso. This jazz journey gathers R&B, soul, swing, gospel and boogie under its entertaining wing, with King also exercising considerable chops on B3 organ and offering specific nods to James Brown and Eddie Floyd along the way, plus a rollicking treatment of Otis Redding's I Can't Turn You Loose opening the account. There's oodles of short, sharp phrasing, spot-on emphases and rhythmic drive alongside slow and sure, churchified entries such as Come Walk With Thee and I'll Chase That Rainbow. My favourites: the definitive B3 workout on Stax 'em High and the muscular King City Stomp.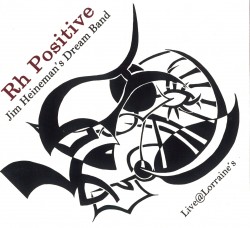 Jim Heineman's Dream Band Rh Positive - Live @ Lorraine's(Tima Town Productions www.jimheineman.com) has the rarely-recorded Toronto veteran Heineman directing a lively, often cheerfully raucous set at an Ossington Avenue venue. It's very welcome. He plays tenor saxophone, flute and saxello, composed the 12 wide-ranging tracks, many with a Latin flavour, and sings a bit, with fine jazzers in support – pianist Stacie McGregor, bass Brandi Disterheft and drummer/vibist Mark Hundevad. Also on hand are (son) Sam Heineman and frequent guests who back the leader's tough, grainy-toned and always swinging horn, heard to great effect on alluring tunes like Stingy and the bluesy Some Things Never Change. McGregor and Disterheft are in excellent form throughout. Best on disc: Them Shape Shifting Reptilians.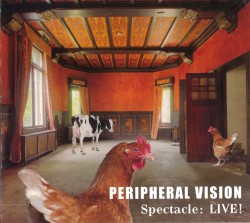 Long-time collaborators bassist Michael Herring and guitarist Don Scott are important members of the contemporary jazz picture and they flourish within their able quartet. It's to be enjoyed on Peripheral Vision Spectacle: LIVE (Step3 – 004 www.peripheralvisionmusic.com), taped at Vancouver's Cellar Club. Joined by tenor saxist Trevor Hogg and avant-jazz veteran Nick Fraser, their eight-tune set is infinitely better than the unit's self-titled debut, always sophisticated and accessible despite liberties taken with conventional forms and ideas. That's helped by the compositional quality (five Herrings, three Scotts), the confident soloing by all, notably the ever-improving Hogg, and the way individuals mesh before emerging from often-dense ensembles. The inspired Butter Side Down, the agile Living The Dream and the seductive harmonies of Abide are particularly memorable.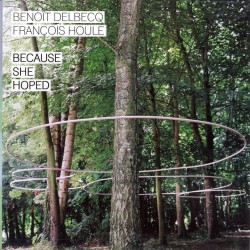 Also worth noting: Benoit Delbecq/Francois Houle - Because She Hoped (Songlines SGL1592-2) is a joyous, esoteric improvised music workout by long-time colleagues and veteran avant-jazzists, pianist Delbecq and clarinettist Houle, that swoops and soars and reflects in astonishing sonic ways.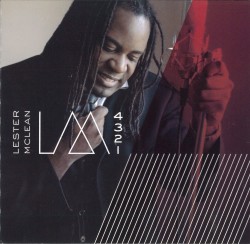 Lester McLean - LM 4321 (LME002 www.lestermclean.com) showcases the many talents of saxist/vocalist/songwriter McLean on 15 mostly upbeat pieces, a dozen of them his smart creations. The soulful, groovy atmosphere is aided by solid companions in his ace brother Mark on drums, guitarist Michael Occhipinti and bassist Louis Simao.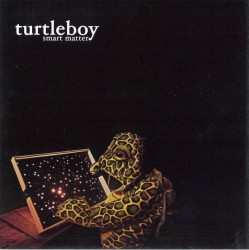 Turtleboy - Smart Matters (Songlines SGL 1590-2 www.songlines.com) is a threesome adept at re-imagining the sound of a sax trio, with Jonathan Lindhorst (tenor), Ryan Butler (guitars) and Adam Miller (drums). Good melodies, integrated playing, pop and free jazz sensibilities abound.