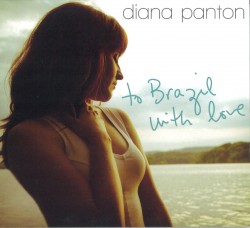 To Brazil with Love
Diana Panton
eOne Music DIA-CD-1293 www.dianapanton.com
"To Brazil With Love" from vocalist/composer Diana Panton is a perfect jewel of a CD. Each delightful track is an exquisitely manicured musical facet, set firmly in the Brazilian idiom and seamlessly sung in French and English by Panton. Her diaphanous vocal sound never insists and her high speed vibrato is like the beat of a hummingbird's heart – natural, untainted and pure. The Brazilian-infused material is an eclectic mix, including compositions from Panton, Antonio Carlos Jobim and Paul McCartney (check out the moving interpretation of And I Love Her/Him featuring Don Thompson on piano rendering chord changes that never entered McCartney's mind).
On the recording, Panton has cleverly surrounded herself with superb musicians – including multi-instrumentalist and producer Thompson on bass, piano and vibes. Guitarist Reg Schwager makes a stellar contribution with his exquisite solos, as does flautist Bill McBirnie. The rich, sonorous linear lines of Kiki Misumi's cello also enhance the arrangements. Highlights include Panton's Is it Really You, Samba Saravah (from the 1966 film A Man and a Woman, with authentic vocal and percussion from Maninho Costa), Jobim's So Nice replete with a lovely, breezy vocal and a take on the 1963 Bobby Vee hit, The Night Has a Thousand Eyes – demonstrating that Diana Paton certainly knows her way around a standard, Brazilian or otherwise. This is a stunning recording on all levels, and we should all look forward to more from the lovely Ms. Panton.