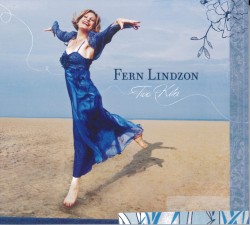 Two Kites
Fern Lindzon
Iatros IM02 (www.fernlindzon.com)
On pianist/vocalist/composer Fern Lindzon's sophomore recording, she explores themes of spiritual and emotional transcendence as well as the kinaesthetic experience of soaring through, around and above the natural elements of wind, sea and sky. The musical journey is an eclectic one, featuring original material, Brazilian and Yiddish compositions as well as blues and a medley of Broadway standards – even so, there is a unifying creative intent on this breathtakingly beautiful album. For "Two Kites" she has enlisted gifted collaborators bassist George Koller (who also wears the producer hat), Mike Murley on saxophones and Nick Fraser on drums.
The jaunty title track comes from Antonio Carlos Jobim (who wrote the music as well as the English lyrics) and deliciously coalesces all of the thematic elements of the album.
Lindzon has a consummate ability to sing in Yiddish. On Dona Dona and Yam Lid/Lustige Chasidm/Balkan Bella-Busta, she effortlessly combines an ethnic sensibility with decidedly contemporary elements - all the while wrapping her tongue around the unforgiving German dialect. George Koller`s rich and extensive background in world music can be felt throughout.
Memorable tracks include the original instrumental All Fall Down where Lindzon's intricate, yet commanding piano technique is a perfect fit for Murley's lithe soprano work, which weaves in and out of Koller and Fraser's pulsing lines. Also noteworthy are the haunting Distance by consummate vocalist Norma Winstone and Lindzon's original, Grey Green, on which her evocative vocal, harmonically complex arrangement and Bill Evans-ish piano solo coupled with the inspired work of her ensemble, make this an undeniable stand-out.