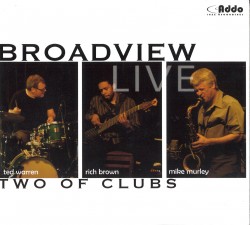 When Mike Murley enters the heroic tradition of tenor sax trios, you'd better listen. The star hornman has linked with two quality veterans in a new band playing bandsmen originals that makes its recording debut on Broadview Trio - Two Of Clubs (Addo Jazz Recordings AJR008 www.addorecords.com). Taped at Toronto clubs Chalkers and The Rex, the appropriately titled opening track Rich Murlted soon morphs into a thriller, with fleet and pungent bassist Rich Brown and smart, energizing drummer Ted Warren revelling in an open, loose structure that lets them stretch. All eight cuts have something to recommend them, Lullabye showing off the serious intense groove impact Brown generates, Open Spaces brewing nicely beneath Murley's seamless phrasing cruise and International Idle a feast for Warren's rapid-fire excursions around the kit. Murley's caressing of Winter Flower is the saxman at his spellbinding best, the off-kilter Tango Ruby bounces giddily, On The Lemonade is an out-and-out swinger while Hibiscus rambles with purpose, illuminating trio members' vast skills as they blend ingenuity and emotional depth.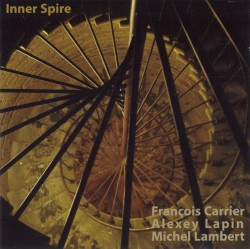 The threesome led by inspirational Quebec alto saxist François Carrier indulges avant-garde motifs crammed with repetitive notes, long tense solos and a sound that's wildly uneven yet most agreeable, at least to these ears. François Carrier/Alexey Lapin/Michel Lambert - Inner Spire (Leo Records CDLR601 www.leorecords.com), recorded in Moscow last December, has the boss wailing like Albert Ayler while regular drummer Lambert and thunderous Russian pianist Lapin pursue manic notions of their own, together creating freewheeling music that's always teetering on the precipice. Lapin suggests Cecil Taylor or Matthew Shipp, the irrepressible Lambert only himself. Five "tunes" here, none hummable, but it's always fascinating to hear how bold sonic explorations develop – it makes 20th century classical revolutionaries seem distinctly tame.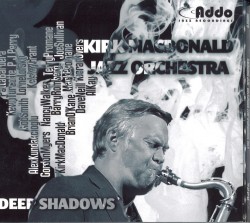 Kirk MacDonald, noted tenorman and now noted composer, has put together a top-drawer collection of musicians to play eight of his tunes on Kirk MacDonald Jazz Orchestra - Deep Shadows (Addo AJR009 www.adddorecords.com), with trombonist Terry Promane and trumpeter Joe Sullivan (who also conducts) sharing chart duty. The leader's in the sax section, soloing at length in signature powerful manner on the opening New Piece and with considerable acumen and authority elsewhere. His compositions pack the passion in, though it's not always obvious. The intro to Goodbye Glenn has elements of the lustrous Miller sound but the ballad is a delightful showcase for saxists P. J. Perry (alto) and Pat LaBarbera (tenor) and ever-present lush section work, while the thrusting Greenwich Time offers fine moments from guitarist Lorne Lofsky. Jazz waltz Calendula puts the chief back in the solo saddle to deliver a well-rounded gem, and it's the turn of Sullivan, Promane and driving drummer Barry Romberg to achieve blowhard honours on the effective minor-chord Eleven. High standards throughout are maintained, right up to the showcase title tune closer.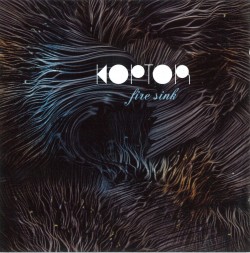 Drummer Kevin Brow graduated from U of T's jazz program but now is based in Copenhagen. Koptor - Fire Sink (Fresh Sound New Talent FSNT 384 www.kevinbrow.com) is his band Koptor's second album and it's really good. The forceful, imaginative Brow composed 10 originals for a session featuring three Danish players – avant-garde saxist Lotte Anker, pianist Jacob Anderskov and bass Jeppe Skovbakke. The music's all stop-time rhythms, unpredictable sequiturs and cool sonic provocation, like some ECM recordings, and nods relentlessly to Euro classical structures. Brow maintains exceptional grooves, often exciting though never overstating his case while his companions offer up jazz ranging from lavishly melodious to suggestively raw. The rousing Intellectual Sex, the fascinating soloing of sax and piano and crafty underpinning by drums and bass on the title cut and the weird eruptions on Penny Crushing are just three examples of creative minds in high gear.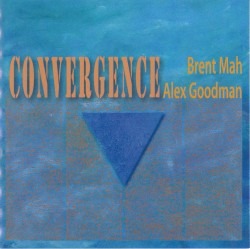 Young bands are stirring interest in Hogtown. One has twenty-somethings making their debut recording on Brent Mah/Alex Goodman - Convergence (www.alexgoodman.ca), a most promising album demonstrating maturity, flexibility and a cohesion so acute that on occasion it almost throttles freshness. Accomplished guitarist Goodman penned four tunes, saxist Mah three and the 68-minute session is fleshed out with a jazz standard and contributions from Radiohead and Pink Floyd. Booming bassist Dan Fortin and drummer Karl Schwonick make a solid rhythm team. The opening Momentum is sort of chamber-bop in 5/4, a measure of the writing challenges met and the other material is never dull, though while I appreciate Mah's range and agility I don't care much for his restrained and thin alto/soprano tones. Other entertaining tracks are Persistence Of Memory and Missed Opportunity.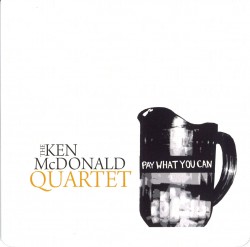 The next shows bassist Ken McDonald making big strides with his second album as leader Ken McDonald Quartet - Pay What You Can (www.kenmcdonaldjazz.com) that features saxist Paul Metcalfe, guitarist Demetri Petslakis and drummer Lowell Whitty. He's composed six thoughtful originals that are performed with energy and confident flair, for starters Detroit which especially shows off his strings agility and bright-toned Metcalfe's rich vein of ideas. Beyond it are smart and subtle creations that let bandsmen expand their horizons and conjure up novel, sometimes striking, jazz – it's a pity there's just 39 minutes of it.