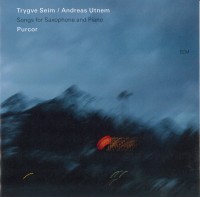 Purcor - Songs for Saxophone and Piano
Trygve Seim; Andreas Utnem
ECM 2186
The work of this Norwegian duo offers a blend of original melodies accompanied by adaptations of a few indigenous folk songs. The recording is very subdued and creates an intimate atmosphere for the listener that is both alluring and interesting. This album also exemplifies many genre defying qualities which make it rather difficult for one to categorize.
Andreas Utnem's piano style is vaguely reminiscent of Robert Schumann's work, while Trygve Seim's playing echoes that of Dexter Gordon. When the two distinct styles converge, a beautiful fusion emerges with affluent melodies and unique lyrical qualities – it's as if Trygve is speaking to the listener through his saxophone.
The recording itself accentuates the expressive saxophone with close proximity microphone placement. This enables the listener to hear every detail of Trygve's performance from the deepest bellow to the most ethereal whisper. Conversely, the piano feels distant and ominous, leaving reverberant trails of melody in the background of the soundscape.
One can easily discern that these fourteen songs have been chosen and placed in order with much deliberation. Although they are songs without words, a story unfolds in such a way that one should surely listen to this album from beginning to end.