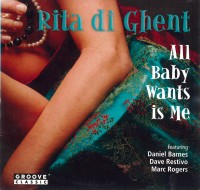 All Baby Wants is Me
Rita di Ghent
Groove Classic (www.ritadighent.com)
In her seventh and latest recording "All Baby Wants is Me" evocative songstress Rita Di Ghent presents a tasty sampling of much loved standards as well as two original compositions, including the jaunty title track. Di Ghent's trademark haute-cabaret presentation and impeccable good taste are in full swing on this highly enjoyable recording. She effortlessly conjures up visions of smoke-filled speak-easies, and the bluesier numbers are well-served by her smoky, understated vocal style - reminiscent of the late great Lee Wiley.
Rita served as producer and arranger on this project, and she has surrounded herself with an elegant supporting cast of Dave Restivo on piano and B3 organ, Marc Rogers on bass, Daniel Barnes on drums, multi-cultural jazz artist Kenny Kirkwood on saxophone, Nick "Brownman" Ali on trumpet and Fred Raulston on vibes/percussion. The ensemble is nothing short of perfection, and never overpowers the diaphanous Di Ghent. Dave Restivo is acknowledged as one of the most gifted jazz pianists on the scene today, and on this recording he also shows himself to be a masterful accompanist - in the best possible Alan Broadbent sense.
Di Ghent's clever composition, Nicely Situated is a song in search of a Broadway show, and she delivers it with humour, flair and melodic integrity. Other outstanding tracks include an up-tempo What a Little Moonlight Can Do and George Gershwin's classic I've Got a Crush on You, replete with a gorgeous string arrangement and performance from Jaro Jarosil.