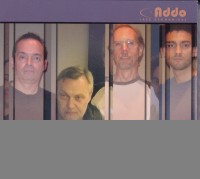 Kirk MacDonald is one of Canada's premier tenor saxophonists, shining first as a performer and latterly adding composing gifts to his arsenal. His Juno-nominated Kirk MacDonald Quartet - Songbook Vol.2 (Addo AJR006 www.addorecords.com) is first class, a seven-tune session with classy sidekicks that cements his stature. The opening burner You See But You Don't Hear has power playing from all with Cuban-born pianist David Virelles, bassist Neil Swainson and whirling drummer Barry Romberg matching the leader's invention and intensity while succeeding songs underline the presence of vigorous probing spirits, plenty of mercurial moments and execution that's fleet and fluent. Vanda Justina is a pleasing ballad, The Torchbearers a surging up-tempo piece with long logical runs that feel just right and an inspired contribution from Virelles, while Starlight and other tracks showcase darting solos with seamlessly evolving and thoroughly developed ideas.
Veteran trombonist Ron Westray, alumnus of Wynton Marsalis' Lincoln Center Jazz Orchestra, holds the Oscar Peterson Chair in jazz performance at York University and it's good to find new recorded evidence of his talent. On Ron Westray Thomas Heflin - Live From Austin (Blue Canoe Records BCR-1094 www.ronwestray.com) he co-leads a hard bop quintet at the Elephant Room in Austin with trumpeter Heflin, engaging pianist Peter Stoltzman, alternating bassists and drummers plus on four pieces starring tenor saxman Elias Haslager. Westray, who was at Texas U before York, wrote two of the seven cuts (Exile: Remember The Homeless, Inside Out) and demonstrates stunning agility with muscular open tones that stop short of brash yet are always exciting. He's clearly in the J.J. Johnson tradition, ever-rousing but sweetly elegant when required.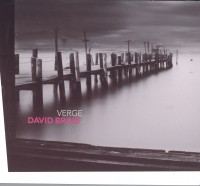 Pianist David Braid is without doubt in Canada's leading jazz ranks, testing his diverse talents in numerous genres. His newest venture - David Braid - Verge (DB 20110120 www.davidbraid.com) – is a solo effort comprising eight pieces, six by him, a remodelling of Broadway ditty The Way You Look Tonight and a traditional Chinese folk song. On the opener Le Phare he's in Brad Mehldau mode, active counterpoint embellishing the melody amid a sheen of classical music influences. You get a fulsome and quirky deconstruction of the standard tune done with wit and superior craft, a spiritual treatment of El Castillo Interior and nods to contemporary pop structures with subtle chord alterations on Richmond Square. Braid exudes confidence, at times a model of concision, at others ranging from fiercely edgy through to sweetness as he creates complex narratives told with flair and always favouring finesse over sheer power.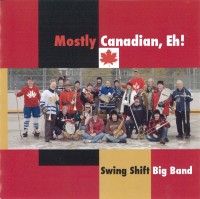 Big bands have always been a Canadian favourite (except perhaps in today's parlous economic times) and the reputation of Swing Shift, led by Jim John on alto sax and clarinet, is increasing. A dozen tunes including a three-pack of blues and pop vehicle Whatever Lola Wants on the outfit's third CD taped live at Humber College, illuminate its well-drilled abilities. Swing Shift Big Band - Mostly Canadian, Eh! (Palais Records SSBB2019CD www.swingshiftbigband.com) features lively swing, strong charts and solid transcriptions of versions by earlier Canuck greats like Art Hallman and Bert Niosi (thanks to pianist/musical director Brent Turner). Solo skills vary, with my choice tenor saxist Jeff Pighin, with trombonist Rob Williams a whisker behind. Old-style vocalists Larisa Renée and David Statham get two songs apiece. The only flaw – there's just 46 minutes of music here.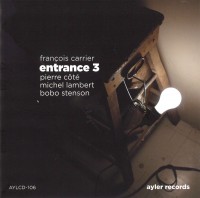 It's always worth hearing Quebec's alto saxist François Carrier, a veteran of the improv scene who never records "outside" jazz that's off-putting to listeners. Taped on Canada Day 2002 at the Vancouver jazzfest but just released is François Carrier - Entrance 3 (Ayler Records AYLCD-106 www.francoiscarrier.com), a heady romp by his trio with Sweden's Bobo Stenson a piano-playing guest. Four collectively "composed" long workouts are always ambitious and adventurous with huge contributions from the upright electric bass constructed by Pierre Côté and regular Carrier companion Michel Lambert's frantically busy drums. Sax and piano swap smart ideas with great urgency in a session throbbing with energy and atmosphere peppered by heated moments, catchy hooks that arrive and depart without overstaying their welcome and splendid passages signalling imminent menace. Great stuff.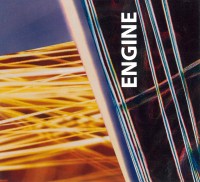 The Toronto band Engine doesn't aim for the same visceral impact, preferring to achieve its spontaneous aims by employing jagged-edged ideas and contrasting creations suggesting off-kilter chamber jazz, abrupt shifts of mood and time, playful sounds off the conventional music map and rumbling passages suggesting a Mingus-influenced uprising. That makes Engine - Start (Pet Mantis Records PMR007 www.enginequintet.com) an interesting disc, nine of its ten tersely-titled items from reedman-leader Peter Lutek. Bandsmen, notably trombonist Tom Richards and pianist Greg de Denus, revel in the discomfort zones with bassist Dan Fortin and drummer Ethan Ardelli trolling rhythmic possibilities with verve. Best crank-turning tune among many good ones is the closing The Lawnmower, with Lutek et al at full wail.