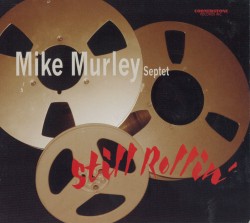 Debut recordings by bands already popular generate advance excitement and acclaimed tenor saxophonist Mike Murley duly delivers with the Mike Murley Septet - Still Rollin' (Cornerstone CRST CD 135 www.cornerstonerecordsinc.com). His writing is almost orchestral in scope, with strong, rich ensemble statements between catchy hooks from an impressive rhythm team (pianist David Braid, bass Jim Vivian, drummer Ted Warren) and fluent soloing. Murley, his majestic horn work ever accomplished, penned seven of nine tunes for an artfully arranged, vibrant freewheeling session giving trombonist Terry Promane, trumpeter Kevin Turcotte (splendid throughout) and saxist Tara Davidson plentiful opportunities for fruitful exploration. Material ranges from the blustery title piece to reflective pieces referencing the leader's Maritime heritage such as Minas Mist via a witty rework of Coltrane's Giant Steps, a lovingly languid Celtic theme, a meaty tribute to Murley idol Sonny Rollins and a three-part suite inspired by Alberta mountains.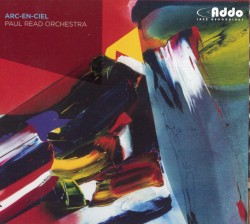 Paul Read, the pianist-composer best known for key jazz roles at U of T and Humber, has run a 17-piece orchestra with top-flight players since 2006. He wrote nine tunes for the disc debut of Paul Read Orchestra - Arc-En-Ciel (Addo AJR004 www.paulreadorchestra.com), an excellent feat of well-drilled innovation and communal flair, though over-favouring lush ballads - the fierce Andy Ballantyne alto on opening swinger Too Pretty For Words besting the mellow beauty conjured by pianist David Braid, saxist Tara Davidson and flugelhornist Jim Lewis on subsequent numbers. Album highlight is the lengthy title tune (meaning "rainbow") that benefits from Trish Coulter's voice within its thick textures, time games and fascinating narrative celebrating nature's alluring phenomenon. Following are a leisurely vehicle for trumpeter Chase Sanborn and not-so-leisurely tenor Alex Dean, so it's fitting they then combine for a real rumble on Oxymoron. The set closes with a two-part suite, an elegy showcasing Braid followed by a rousing dust-up with five soloists, Dean at his effervescent best.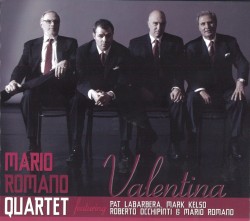 Mario Romano is a real estate mogul and nifty pianist who can more than hold his own with jazz peers. His first CD as leader is Mario Romano Quartet - Valentina (Alma ACS15102 www.almarecords.com), where he's joined by veteran saxman Pat LaBarbera, bass Roberto Occhipinti and drummer Mark Kelso. It opens with LaBarbera driving Night In Tunisia hard and Romano matching his technique and ardour. Standards use his arrangements, sometimes too predictable, but he comps well and, overall, clearly belongs. On Autumn Leaves he's elaborate then pungent while his percussive attack suits Nardis and On Green Dolphin Street. His colleagues are on top form, the bassist's huge sound and Kelso's sheer vigour embellishing the band's superior credentials. Sound quality is terrific.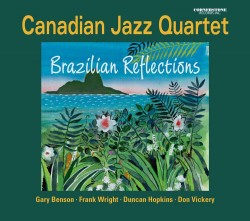 For its fourth album, the Canadian Jazz Quartet – which has played Fridays since 2006 at Quotes on King St. West – has chosen a different direction. The result is a real treat, for those enamoured of Brazilian music and for fans of a stylish group whose jazz evolves seamlessly around tradition. Brazilian Reflections (Cornerstone CRST CD136 www.cornerstonerecordsinc.com) is class all the way, with leader and guitarist Gary Benson adding four originals to the 13 songs, five by Jobim, two from Luiz Bonfa. Elegance is the watchword with Benson colleagues – vibraphonist Frank Wright, bass Duncan Hopkins and drummer Don Vickery - in superlative form employing lilting rhythms as guitar and vibes demonstrate luminous comfort with the melodies. Desafinado is here of course, but so are lesser-known gems.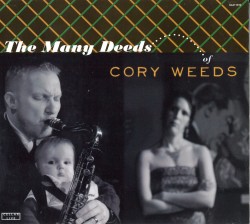 Bands powered by Hammond B3 organs can't be cool – if they don't stir couch potatoes from torpor, they're a bust. With virtuoso Joey DeFrancesco in town, tenorman-club owner Cory Weeds couldn't miss, resulting in The Many Deeds of Cory Weeds (Cellar Live CL011010 www.coryweeds.com), a live gig at Vancouver's Cellar backed by local trumpeter Chris Davis and Byron Landham drumming, a swinging octet of tunes heavy with intense, grooving bass lines. Session leader Weeds sounds great, like a 1960s Blue Note tenor saxist, in fact like the composer of two tunes here, Hank Mobley, but with fatter tones. The pace is mostly fast or semi-fast, Davis efficient more than inspiring, but DeFrancesco blasts on in incomparable fashion with all the grit and ferocity you'd expect. There's great riffs, fierce improv, spectacular percussion, passionate performance – it'll keep you alert for 75 minutes.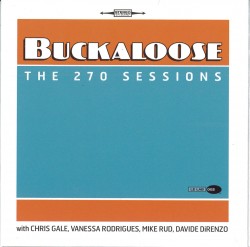 Closer to home the combo co-led by Montreal B3 ace Vanessa Rodrigues and Toronto tenor Chris Gale has a new name and a new record. Meet Buckaloose - The 270 Sessions (Le Lab Records LLCD-002 www.tinyurl.com/buckaloose) It's not quite Joey D powerhouse but it compensates with subtlety aplenty from keys and horn plus smart, confident guitar courtesy of Mike Rud. The music's warmly soulful, drummer Davide DiRenzo propulsive on drums on seven tracks contributed by band members, but amounting to less than 50 minutes' pleasure. Energy levels are high, Rodrigues is more than clever, the versatile Gale varies his aggression with hefty baritone sax, there's drama in every phrase.