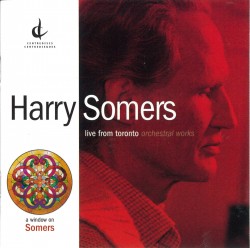 When I heard there was a new addition to the "Window on Somers" series I was hoping it was the soon to be released DVD of Louis Riel out to coincide with WholeNote's opera issue. My expectations were dashed when I found the new release to be a CD of orchestral music, but that is not to say that I was disappointed. Any addition to the Harry Somers catalogue is most welcome and Live from Toronto (Centrediscs CMCCD 15911) features previously unavailable recordings by the Toronto Symphony and Esprit Orchestra. The disc opens with a 1997 recording of Stereophony, a work performed to great effect in the Barbara Frum Atrium of the CBC Broadcast Centre by the TSO under the direction of Jukka-Pekka Saraste. The liner notes tell us this unique spatial composition was commissioned by the TSO in 1963 and that the composer specified "a careful arrangement of the orchestra on the stage and […] at various positions around the auditorium" which at that time was Massey Hall. It would have been interesting to know how this was translated to the very different architecture of the CBC Atrium. We next hear the TSO under the direction of Victor Feldbrill in a 1978 performance of the Piano Concerto No. 2 featuring Robert Silverman. This wonderfully dramatic extended work – 45 minutes and four movements despite what the liner notes say – dates from 1956 and shows 31 year old Somers in mature voice with fully developed command of both keyboard and orchestra. The final track is a majestic work dating from 1978. Those Silent, Awe Filled Spaces was inspired by an entry from Emily Carr's journal. The 2004 performance by Esprit brings life to the angular writing, especially the juxtaposition of brass fanfares and strident strings, which gradually gives way to an unearthly calm. All in all this is an important document which would provide a lucid introduction to the orchestral works of one of Canada's most important creators were it not for the lack of biographical information; a major disservice and an oversight unusual for the Centrediscs label.
A favourite over the past month, She Comes to Shore is a concerto for improvised piano and orchestra by Toronto's Lee Pui Ming performed with the Bay-Atlantic Symphony under the direction of Jed Gaylin (Innova 796). This busy yet meditative 2009 work is in three movements. In the first lush string textures are overlaid with a complex filigree of tintinnabulation from the piano. The second movement is much more dramatic with roiling and pounding from both the piano and the full orchestral forces. This gives way seamlessly to a gentle and extended cadenza in which the piano is eventually joined by a soaring Hollywood-like orchestral melody, primarily in the strings. This piece has been something of a guilty pleasure to the modernist in me, but it is so gorgeous that I have found myself indulging time and again. The concerto is complemented by series of solo piano improvisations, each exploring different worlds from exuberant free-form jazz to quiet contemplation.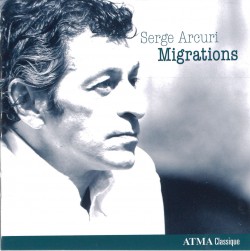 There has been a wealth of new releases from ATMA lately and one that caught my fancy is Migrations (ACD2 2625) featuring works by Montreal composer Serge Arcuri. The disc begins with Les Furieuses enluminures (The Fierce Illuminations) in an eerie fanfare reminiscent of Claude Vivier's Balinese-inspired music in its texture and choice of melodic material. The piece takes its inspiration from the tradition of the miniaturists who decorated medieval manuscripts. Although the instrumentation is not unusual – flute, clarinet, piano and string quartet – I find some of the timbres Arcuri draws from the ensemble quite fresh and unexpected. A celebrated composer of both instrumental and electroacoustic music, Arcuri is particularly noted for his "mixed" works combining both. In Migrations commissioner Robert Cram's flute is effectively juxtaposed with the processed sound of Snow Geese in their annual migration through Cap Tourmente north of Quebec City. Les Voix des Hautes-Gorges layers the sound of 9 clarinets played by Simon Aldrich and treatments inspired by the phenomena of sounds echoing off rock faces at Haute-Gorges Park in the Charlevoix region. Louise Bessette is showcased in the sometimes virtuosic, sometimes contemplative Fragments for solo piano and partners with Jonathan Crow in Des Torrents d'étoiles (Torrents of Stars) for piano and violin. Crow is featured in Soliloque I & II and joined by Mark Fewer, Douglas McNabney and Yegor Dyachkov in Arcuri's string quartet Rémanences. Presenting works published between 1991 and 2007 this disc provides a welcome portrait of a composer in the prime of his career.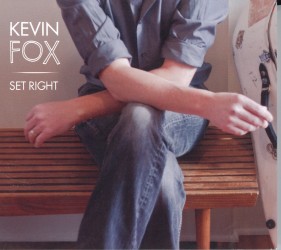 Renaissance man Kevin Fox is at it again. The singing cellist has taken time out of his busy schedule penning arrangements for Justin Bieber and touring with the likes of Chantal Kreviazuk, Tom Cochrane, Steven Page and Olivia Newton-John to co-write an album's worth new songs with lyricist Tammy Fox. Set Right (KF003 www.kevinfox.ca) is more of a straight ahead pop offering than the previous solo effort "Songs for Cello and Voice" but has an intriguing edge. Cello is still a major component and the purity of the signature solo voice is front and centre, but Fox also plays guitar this time round and drums, bass and piano are added to the mix. There are two cover tunes, Joni Mitchell's River which opens effectively with looped sounds reminiscent of a didgeridoo and cello pizzicato over which the haunting vocal soars and a lilting rendition of Paul Simon's Diamonds on the Soles of Her Shoes with the cello sounding more like a fiddle. The originals are thoughtful, poetic and at times playful with some nice turns of phrase, interesting syntactical decisions and catchy melodies.
We welcome your feedback and invite submissions. CDs and comments should be sent to: The WholeNote, 503 – 720 Bathurst St. Toronto ON M5S 2R4. We also encourage you to visit our website, www.thewholenote.com, where you can find added features including direct links to performers, composers and record labels, "buy buttons" for on-line shopping and additional, expanded and archival reviews.
David Olds
DISCoveries Editor
discoveries@thewholenote.com