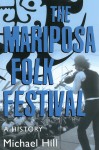 I recently read The Mariposa Folk Festival: A History by current artistic director Michael Hill, and Madeleine Thien's Do Not Say We Have Nothing. The first brought back memories of my own visits to the iconic festival in the Toronto Island years of the early 1970s. One of the lasting memories I have from that time is seeing Taj Mahal performing with his acoustic resonator guitar and a quartet of tubas (!) that included the iconic Howard Johnson. I believe that was the first time I heard Fishin' Blues, which remains one of my favourite songs of the genre. Or a tuba at a folk festival for that matter.
It seemed fortuitous then when one of the last discs that found its way to me before I sat down to write this column was TajMo, the latest from Taj Mahal and Keb Mo' (Concord Records CRE00431). It's a little over-produced for my taste, but there is a great horn section (no tubas though) and a host of fine musicians including a cameo guitar solo by Joe Walsh. Highlights for me are the one all-acoustic track, John Estes' Diving Duck Blues with just the two headliners trading verses and licks, and Pete Townsend's Squeeze Box with a rockin' band that includes both lead and rhythm accordions. It's also nice to hear Toronto get a shout-out in the rollcall of TajMo's calypso-flavoured anthem Soul.
Concert note: The 57th annual Mariposa Folk Festival runs from July 7 through 9 at Tudhope Park in Orillia. Although Mahal will not be there this year I see that the calypso band Kobo Town, whose album Where the Galleon Sank was reviewed in the Pot Pourri section of June's The WholeNote, will be (July 8 at 11:45 AM at the 150+ Stage and July 9 at 4:45 at the Mariposa Pub Stage).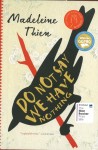 I often re-read books that have spoken to me in a special way, but rarely just a few months after my first exposure. An exception to this practice will be this summer when I return to Thien's multiple award-winning novel depicting life in pre- and post- Cultural Revolution China and the days surrounding the Tiananmen Square protest and massacre. Much of the book is concerned with two generations of musicians involved with the Central Conservatory of Music and I was surprised by the music that was mentioned throughout the book. Upon next reading I plan to take the time to revisit these masterpieces which are so important to the storyline, including Bach's Violin Sonatas, Partitas and Double Concerto, Beethoven's Emperor Concerto and Pastoral Symphony, Handel's Xerxes Overture, Mahler's Das Lied von der Erde, Prokofiev's Violin Sonata, Ravel's Tzigane and Shostakovich's Symphonies Four, Five and Ten. Seems like a good use of my summer!
As always, we welcome your feedback and invite submissions. CDs and comments should be sent to: DISCoveries, WholeNote Media Inc., The Centre for Social Innovation, 503 – 720 Bathurst St. Toronto ON M5S 2R4. We also encourage you to visit our website "thewholenote.com" where you can find enhanced reviews in the Listening Room with audio samples, upcoming performance details and direct links to performers, composers and record labels.
David Olds, DISCoveries Editor
discoveries@thewholenote.com