Review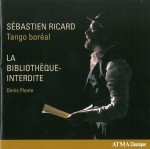 Let me start with a disclaimer: I don't get opera; I don't like tango; and cabaret is not my cup of tea. That being said, imagine my surprise to find that the disc which has been getting the most play on my system this month is a cabaret-style "tango opera" by Denis Plante. La Bibliothèque-Interdite (ATMA ACD2 2752) features actor-singer Sébastian Ricard and Plante's ensemble Tango Boréal in a tale set in the dark days of mid-20th-century Argentina.
"The odyssey began," Plante tells us, "with a concert […] by Les Violons du Roy, the Tango Boréal Trio and actor Sébastian Ricard. Its theme: Jorge Luis Borges. I had been commissioned to write tangos to accompany the poetry of Argentina's great literary figure for the production. Sébastian Ricard captivated the audience as, pacing like a caged tiger, he played several roles […] One year later I suggested to Sébastian that we continue the experiment in musical theater by creating an original show, La Bibliothèque-Interdite [The Forbidden Library]. I wanted to present an impressionistic portrait of tango at the end of that Infamous Decade [which began in 1930 with the military coup that overthrew President Hipólito Yrigoyen and lasted until 1943 when another coup resulted in the rise of Juan Perón]. I have long been fascinated by this period – and by the fact that, sometimes risking their lives, it was the gaucho minstrels and tango enthusiasts, the payadores and the tangueros, who first denounced the rise of the fascists…"
Plante has created a libretto that is "a confession, a life story and ideological speech" sung by a fictional poet. Although this character sprung from the composer's imagination, it is also based on stories told by his father-in-law Alfredo Monetta, "an Argentinian exile who barely escaped the genocide of the dirty war of 1976." He goes on to say "Other memories are my own. I discovered the neighborhoods of Buenos Aires in dramatic and violent circumstances: blinded by tear gas during the crisis of the pot-banging protests of December 2001."
So what does this all sound like? It begins with Eden, a languidly nostalgic song – I often dreamed of a library with secret doors…it was my childhood and my destiny: I became a poet – that gives way to Inspecteur Barracuda, a harder-edged portrait of the prince of the renegades, the nabob of tango. [Translations mine.] There are 16 contrasting movements, each with their own story from Icarus' Descent and a Bestiary to ruminations on departures, memory, silence and life. The instrumentation is simple and clean, featuring bandonéon (Plante), nylon-string guitar and charango (David Jacques) and acoustic bass (Ian Simpson), with occasional added percussion and small chorus. Stylistically it is a pastiche, as freely admitted by Plante, with moods that vary from ballad to narrative to dance-like, including of course more than a fair share of tango.
What struck me most however was the clarity of Ricard's vocals. I studied French throughout public and high school plus several post-secondary summer immersions, and although I cannot carry on a fluid conversation in la belle langue, I am able to read fairly sophisticated texts en français (my summers always include reading a least one French novel in the original). But listening to art songs or popular music in French I often have trouble following the lyrics. So I was immediately hooked when I realized that I could understand la plupart of what Ricard was singing, thanks to his clear diction and to Plante's careful setting of the texts. I was reminded of the vocal writing of John Weinzweig, oh not in the musical language, but in the careful selection of words that could be clearly understood when sung.
The booklet notes include a dedication paragraph and, as quoted in part above, a "Diary of Creation" by Denis Plante, a foreword by Sébastien Ricard, a poem by Brigitte Haentjens and artists' biographies, all in both official languages. Strangely the libretto only appears in French, leaving me glad of all those years I put in building my vocabulaire. Highly recommended.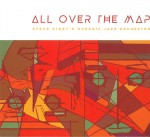 My next selection takes us All Over the Map with Steve Kirby's Oceanic Jazz Orchestra (stevekirbymusic.com). Winnipeg-based composer and bassist Kirby has himself been "all over the map" having worked with such luminaries as Elvin Jones, Wynton Marsalis, Cyrus Chestnut, Abbey Lincoln and Joe Lovano, to name but a few, before re-locating from New York City in 2003. He currently serves as Director of Jazz Studies at the University of Manitoba, director of the U of M Summer Jazz Camp, artistic director of the Izzy Asper Jazz Performances and editor of dig! magazine. The disc's production is also a well-travelled affair, having been recorded at Toronto's Canterbury Sound and Winnipeg's Paintbox and Musirex studios, and mixed in New York.
The ten tracks, all penned by Kirby, explore a plethora of styles and geographies but never stray from jazz's mainstream. Assiniboine traverses the complexity of Manitoba's famous winding river using a relatively small but lively sampling of the orchestra's instrumentation, just eight players, with Curtis Nowosad's drums, Warren Wolf's vibraphone and Jon Gordon's soprano saxophone particularly prominent. Boissevain, another Manitoba landmark, is a ballad with alto flute (Shannon Kristjanson) added to the mix and Mike Eckert's pedal steel and Will Bonness' piano featured in the "celestial" finale. Winnipeg Symphony Orchestra's concertmaster Gwen Hoebig exercises her fiddle chops in Duende's Dance, a lively swing with high vocalise from Anna-Lisa Kirby and Heitha Forsyth.
Each of the tracks has full musician credits and a program note by Kirby, but I don't know what to make of the title Health Sciences Hypertension Clinic which he says is part of his Winnipeg Suite. Although busy with what could perhaps be construed as hyperactivity, I don't hear the "frenzied pressure" mentioned in the note. Be that as it may, A Change of Plans adds a mellow change of pace, nylon-string guitar and gentle lyric by Anna-Lisa Kirby over a bossa-nova rhythm. Electronic textures provided by Örjan Sandred with pedal steel, violin, soprano sax and piccolo contribute to the glacial timbres featured in Qallupilluit, which depicts an Inuit tale "in which parents terrify their children with threats of mystical sea creatures that live under the ice.." Peter Lutek's bassoon intro to Dance of the Carapace sets the stage for a lilting rollick that includes an extended vibraphone solo and a star turn for trumpeter Derrick Gardner.
The most strident piece is the one that provides social commentary and protest, both timely and historical. Tulsa is a collage of black voices decrying the abuses and atrocities committed against African-Americans throughout history. I don't feel it is my place to comment, but the power of the piece speaks for itself. There is a good clip on YouTube where Kirby discusses the background and context of Tusla; well worth viewing.
The disc does not end in anger, but rather with an optimistic anthem. A Speck of Dust "was inspired by Carl Sagan, the Canadian Museum for Human Rights and my dream of a peace festival" says Kirby. With its lyric A speck of dust out in space/became the home for this whole human race/ […] On the surface we are different there are many of us/Deep within our hearts we are all the same "it's an invitation to lose imaginary boundaries." A valuable message indeed.
I have the one sheet (press release) and program notes for Unfamiliar Surroundings by the Joe Sullivan Big Band (Perry Lake Records joesullivan.ca) but I can't figure out why it's called that. Trumpeter/composer/arranger Sullivan is obviously totally at home in the context of both the band and the music, and titles of the three original suites that comprise the 2-CD set don't suggest anything exotic. This is mainstream jazz in top form, and the dozen and a half players involved, including such journeymen as Rémi Bolduc, Al McLean, André Leroux, André White and Lorne Lofsky, all seem totally comfortable in their ensemble and solo roles.
Sullivan, a Franco-Ontarian who hails from Timmins, studied classical trumpet at the University of Ottawa before pursuing jazz studies at Berklee and the New England Conservatory. Since then (1987) he has made his home in Montreal where he teaches jazz composition, arranging and trumpet at McGill University and directs the McGill Jazz Orchestra. In addition to his own activities (which include seven previous CDs) he has served as conductor and arranger with the Kirk MacDonald Jazz Orchestra, has been a member of the Vic Vogel Big Band for some 25 years and has appeared as a trumpet soloist with the Pittsburgh Symphony and the Orchestre Symphonique de Montréal.
October Suite, which opens the first disc, begins with a Prelude that starts quietly before a rousing chorus from the whole ensemble that leads to extended solos by pianist White and guitarist Lofsky. Off Kilter begins with unison brass figures giving way to a tenor solo from McLean and bass solo from Alec Walkington. In Let's Go, drummer Dave Laing gets his turn to come to the fore in a solo that swells and breaks like waves upon the shore eventually ebbing behind ebullient brass that in turn give way to the trombone of Jean-Nicolas Trottier in a virtuoso display of dexterity. After more rousing tutti choruses the trombone eventually returns to gradually calm things down and bring the suite full circle to a peaceful end.
Suite Laurentides is another three-movement work: The Grackle, featuring a delightful flugelhorn solo from Sullivan, surprisingly lyrical for a bird that is known mostly for its croak, followed by a growly tenor outing from Mclean; Nightfall, expectedly dark with musing baritone from Jean Fréchette and contemplative piano from White; and the concluding movement which gives the album its title and I suppose answers my initial question, although the upbeat closer still doesn't break new ground. In Sullivan's defense I will concede that "unfamiliar surroundings" does not necessarily imply uncharted territory.
The second disc contains the five movement Suite Montage: The Waiting Game; A Lullaby; Montage #3; The Captain's Log; and Refuge. This latter features another solo by Sullivan and Lofsky's mellow guitar over a sparse rhythm section before the orchestra enters for the quiet conclusion of a gorgeous set. I just wish there were some descriptive notes to give a clue to the intriguing titles.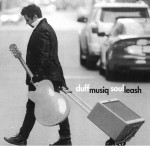 The final disc this month sounds like vintage guitar-based R&B, although Duffmusiq's Soulleash (duffmusiq.com) consists of 11 original tracks of (presumably) recent vintage. Damir Demirovic, a.k.a. Duffmusiq, was born and educated (classical violin, piano and theory, and later guitar and saxophone) in Serbia before moving to Toronto in 2002 to study music production and studio engineering at the Harris Institute. Since that time he has worked as a producer and studio musician and has developed a successful career composing for film and television.
Soulleash is his first solo album and on it he displays a multitude of talents, composing both the music and lyrics, producing and mixing the recording and playing a host of instruments. Most prominent is his distinctively smooth guitar style, reminiscent of George Benson and Wes Montgomery. He is joined by some fine musicians including Alexis Baro (trumpet), Anthony Brancati (keyboards), Alex Sekulovski (drums) and Sam Heineman (Hammond organ). Of special note however are the vocalists who are featured on several tracks, a vocalise by Vania Margani on the opening Interlude Solitude, Christine Hamilton on After Midnight, Wade O. Brown on My Only Love and Party People where he is joined by Quisha Wint and Gyles, Lisa Michelle on the title track, plus Jeff Eagar and rapper Jin Brown on Solace. It's kind of a retro offering, but I mean that in a good way. It takes me back to my clubbing days in the 1970s grooving to Billy Reed and the Street People, Dollars (Mary Margaret O'Hara's band) and Rough Trade. Nice memories. Thanks Duffmusiq!
We welcome your feedback and invite submissions. CDs and comments should be sent to: DISCoveries, WholeNote Media Inc., The Centre for Social Innovation, 503 – 720 Bathurst St. Toronto ON M5S 2R4. We also encourage you to visit our website "thewholenote.com" where you can find enhanced reviews in the Listening Room with audio samples, upcoming performance details and direct links to performers, composers and record labels.
David Olds, DISCoveries Editor
discoveries@thewholenote.com