Ten days ago I thought I knew what I would write about in this month's column, but so much has happened since then: the death of Leonard Cohen on the heels of the release of his final work You Want It Darker – darker indeed!; the change in the weather from beautiful, colourful days of unseasonably high temperatures to high winds, sub-zero thermometer readings, bare trees and the first sight of snow as I sit down to write this; and the last-minute arrival of a number of particularly interesting discs (most of which will have to wait until February).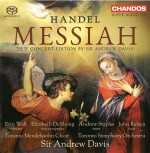 It is literally a case of "this just in" – couriered to me the afternoon before my deadline – with the Toronto Symphony Orchestra's new recording Handel Messiah (Chandos CHSA 5176(2)), with the Toronto Mendelssohn Choir and soloists Erin Wall, Elizabeth DeShong, Andrew Staples and John Relyea. TSO Conductor Laureate Sir Andrew Davis not only conducts but is responsible for the new arrangement for full modern orchestral forces. In his booklet notes, Davis tells us that this labour of love, dedicated to the memory of his parents, took ten months to prepare in advance of 2010 performances with the TSO. I first became aware of the mammoth scope of this version when Davis and the TSO revisited it for the 2015 Messiah performances last December. At that time I needed to hire a contrabassoonist for New Music Concerts' "Portrait of Philippe Leroux" and approached Fraser Jackson, the TSO musician who is our usual go-to guy for contra. Fraser said that although Messiah doesn't usually require quadruple winds and brass, for Davis' version it was all hands on deck as full orchestral resources, and then some, are called for.
This recording was prepared from those live performances at Roy Thomson Hall last year so I knew not to expect a lean, historically informed approach and in fact was a little concerned about just how bombastic it would turn out to be. I am pleased to report that Davis achieves a nice balance between restraint in the accompaniment to the arias and larger forces in the choruses. Especially effective is the power of the Hallelujah Chorus toward the end of which Davis added sleigh bells "because this passage has always brought to my mind the picture of proudly rearing horses!" This is contrasted with the opening aria of Part Three where the soprano is accompanied only by clarinet and solo strings. The final chorus which begins in full voice is reined in for the "Amen" fugue which begins with organ accompaniment and gradually builds to a magnificent and triumphant finale that threatens to bring down the house.
Producer Blanton Alspaugh and the engineers of Soundmirror Inc. have done an impressive job of capturing the TSO and Mendelssohn Choir in glorious full spectrum sound. The vocal soloists are in top form, although I must say that personally I find soprano Wall's wide vibrato a little hard to take – it's simply not a taste I have acquired. A highlight for me is the alto aria "But who may abide…" and the bass' "The people who walked…." Personal tastes aside, this new recording does the Toronto Symphony Orchestra, Toronto Mendelssohn Choir and, indeed, Toronto itself proud.
Concert notes: There are some two dozen opportunities to hear full performances of Messiah listed elsewhere in these pages, plus a number of concerts featuring excerpts from the iconic work. The Toronto Symphony Orchestra promises a somewhat different approach this year with famed early music expert Nicholas McGegan at the helm. The TSO offers five performances with the Toronto Mendelssohn Choir and soloists Yulia Van Doren, Abigail Lewis, Isaiah Bell and Daniel Okulitch at Roy Thomson Hall December 18 (matinee), 19 through 21 and 23 at 8pm.
If there was any doubt that the flute is a going concern in our fair city, activities in the last six months have certainly laid that to rest. My association with Robert Aitken has given me an insider's view of some of these, including New Music Concerts' "Flutes Galore" last April with an orchestra of 24 members of the flute family – piccolo to contrabass – featuring (many of) this city's finest players. This came just days after the Canadian Flute Association's Latin American Flute Festival which had involved some of the same musicians along with international guests. Since then, Soundstreams' "Magic Flutes" included Aitken and fellow Torontonian Leslie Newman, with international stars Marina Piccinini, Claire Chase and Patrick Gallois. This was followed by "Flute Day" at the University of Toronto with workshops, masterclasses and a flute choir concert with Aitken, Newman, Nora Shulman, Stephen Tam, Camille Watts and faculty students, and the following week Esprit Orchestra's presentation of R. Murray Schafer's Flute Concerto with Aitken as soloist. Interspersed with this has been a series of flute showcases, demonstrations and concerts by internationally renowned flutists sponsored by Long & McQuade, hosted by Gallery 345. And this is all just in the realm of the classical flute tradition. Bill McBurnie's Extreme Flute, Jamie Thompson's Junction Trio and Jane Bunnett's myriad activities are just a few examples of how diverse the local flute scene is.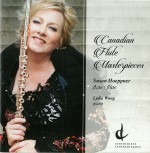 One of the other late arrival discs features another star in Toronto's flute firmament, Susan Hoeppner. Following on their JUNO award-winning 2012 Marquis release American Flute Masterpieces, Hoeppner and pianist Lydia Wong have just released Canadian Flute Masterpieces, this time on the Centrediscs label (CMCCD 23116). The disc begins with Gary Kulesha's Sonata for Flute and Piano, which is dedicated to Hoeppner who premiered it with the composer in 2014. The effective work is in three contrasting movements, a bright Allegro molto, a brooding Slowly, freely and the toccata-like Moderately fast finale. It is freely tonal but among the effects used are microtonal bending of notes, unpitched breath sounds and whistle tones in the flute line and small cluster chords in the piano part. This is followed by Michael Conway Baker's moving Elegy in an arrangement for flute and piano.
As in many of Srul Irving Glick's works, Sonata for Flute and Piano is a tuneful secular piece which incorporates a traditional Hebrew melody, in this case a chant for the Jewish New Year. Oskar Morawetz wrote his Sonata for Flute and Piano in 1980 for another towering figure in the flute world, Jeanne Baxtresser, who served as principal flute for both the Montreal and Toronto Symphony Orchestras before accepting the position of solo flutist with the New York Philharmonic under Zubin Meta. Morawetz was a self-avowed traditionalist and this sonata is a good example of that with its charming melodic turns and the rhythmic intensity of its outer movements.
An arrangement for flute and piano of Larysa Kuzmenko's Melancholy Waltz from Suite of Dances provides a haunting contrast to both the preceding track and the final work, Arctic Dreams I, by Christos Hatzis, written for Hoeppner and percussionist Beverley Johnston. Hatzis explains that Arctic Dreams is a palimpsest of sorts, a piece written overtop material that was originally recorded for Footprints in New Snow, the third movement of the radio documentary Voices of the Land, about the Inuit and their culture, created with CBC producer Keith Horner. The work's soundtrack opens with Inuit throat singing and the Arctic landscape of the title is effectively superimposed with melodic flute and vibraphone textures.
I first met Hoeppner in my capacity as a concert recording producer at CJRT-FM and I can vouch for her dedication and concern that only first-rank performances be recorded for posterity. She and Wong have risen to the occasion on this project and both the performances and the production values of this Mazzoleni Hall recording are outstanding. While I might have called them Canadian "gems" rather than "masterpieces," I have no qualms about recommending this fine recording.
Concert note: On December 12 at 5:30pm Susan Hoeppner launches Canadian Flute Masterpieces at the Canadian Music Centre.
Review
I grew up understanding that John Weinzweig was the "Dean of Canadian Composers" but in my formative years came to the realization that, as with so many things Canadian, there are Two Solitudes and that Jean Papineau-Couture (1916-2000) was "The Dean" in La Belle Province. He was born into one of the most distinguished Quebec families and his forebears include the statesman Louis-Joseph Papineau and the composer Guillaume Couture, who was his paternal grandfather. As a matter of fact Papineau-Couture was named in honour of his grandfather's masterwork, the oratorio Jean le Précurseur, John the Baptist.
There are many parallels between the two "deans." After studies at home in Toronto, Weinzweig went to the USA to study at the Eastman School and Papineau-Couture left his native Montreal to attend the New England Conservatory and later studied with the iconic Nadia Boulanger who spent the war years in America. Both moved back to Canada to establish careers as composers and university professors. They were founding members of the Canadian League of Composers (CLC) and the Canadian Music Centre (CMC) and enjoyed a friendly rivalry over the decades. I had the pleasure of meeting Papineau-Couture on several occasions and the privilege of interviewing him for my program Transfigured Night at CKLN-FM in the 1980s. He was a charming man and a generous soul, a fierce champion of the rights of artists and staunch defender of serious culture. He was also an active administrator serving as the president of the CLC, the Société de musique contemporaine du Québec and the Canadian Music Council, dean of the music faculty at the Université de Montréal and the director of the Montreal office of the CMC.
I was delighted when I heard that Quatuor Molinari was recording his complete music for string quartet along with the string trio Slanó (ATMA ACD2 2751). And even more delighted to find that in addition to the String Quartets 1 and 2 with which I was familiar, there was a third from 1996 and an incomplete fourth recently found among his papers. So we are effectively presented with works spanning nearly half a century and all the periods of his mature career. String Quartet No.1 dates from 1953 and shows the influence of French composers of the early 20th century. By the centennial year when he composed String Quartet No.2, although eschewing the serial school of composition, he was exploring an expanded tonality using all 12 tones. It is the string trio from 1975 that is the most experimental, with its elaborate use of extended techniques and layering of timbres. Quartet No.3 is a one-movement work which presents a sense of stylistic transition, moving away from the somewhat abrasive world of the string trio, embracing a certain lushness while at the same time approaching the sparse lyricism with which we are presented in the posthumous final work. Although unfinished, I must say that it does not give the impression of being incomplete.
This is a wonderful retrospective of one of our most important composers on the occasion of his centennial and it includes two world premiere recordings. Kudos to founding first violinist Olga Ranzenhofer and the members of the Molinari Quartet for their ongoing commitment to the music of our time through recordings of some of the most significant works of the last half century and their efforts to develop new repertoire with the Molinari International Composition Competition, the sixth of which took place in 2015. Praise is also due to the designers of the attractive and informative package which includes some wonderful photos of Papineau-Couture throughout his life, from an adolescent in a sailor suit through to the pensive, but ever-smiling, grand old man.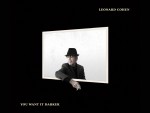 This month we say goodbye to another grand old man and icon of the Canadian music scene, Leonard Cohen. Much like David Bowie's final offering Black Star, Cohen's You Want It Darker (Columbia/Sony) seems a precursor, with such lyrics as "I'm ready my Lord," "I'm leaving the table; I'm out of the game" and "I'm traveling light, it's au revoir" recurring throughout the nine-song release. Produced by Adam Cohen, the disc features lyrics by his father set to music co-written with Patrick Leonard, Sharon Robinson and Adam himself. There is an overall consistent feel, mostly mellow and melancholy with Cohen's haunting sprechstimme vocals, but with occasional upbeat respites such as Steer Your Way, with rhythmic fiddling from David Davidson and background vocals by Dana Glover and Alison Kraus. The orchestration is quite varied, from the title track with drums, two B3 organs and keyboard, cantor Gideon Y. Zelermyer and the Shaar Hashomayim Synagogue Choir, to a quintet of accompanists in Leaving the Table who play between them drums, bass, nylon-string guitar, guitar, mellotron, celeste, keys, piano, electric and pedal steel guitars. One very effective juxtaposition is Treaty – "I wish there was a treaty we could sign; It's over now, the water and the wine; We were broken then, but now we're borderline; I wish there was a treaty; I wish there was a treaty; Between your love and mine" – with the final track, which is a revisiting entitled String Reprise/Treaty. This features an extended string prelude by Patrick Leonard which is somewhat reminiscent of another contextual anomaly, producer Jack Nitzsche's String Quartet from Whiskey Boot Hill on Neil Young's eponymous album back in 1968.
On the credits page of the booklet, Cohen includes an extended tribute to his son, saying, in part "I want to acknowledge, with deep gratitude, the role my son Adam Cohen played in the making of You Want it Darker. Without his contribution there would be no record. At a certain point, after over a year of intense labour…the project was abandoned. Adam took over…and brought these unfinished songs to completion, preserving of course, many of Pat [Leonard]'s haunting musical themes. It is because of my son's loving encouragement and skillful administration, that these songs exist in their present form. I cannot thank him enough." We should all be thankful for this moving memento mori.
We welcome your feedback and invite submissions. CDs and comments should be sent to: DISCoveries, WholeNote Media Inc., The Centre for Social Innovation, 503 – 720 Bathurst St. Toronto ON M5S 2R4. We also encourage you to visit our website
thewholenote.com where you can find added features including direct links to performers, composers and record labels, "buy buttons" for online shopping and additional, expanded and archival reviews.
David Olds, DISCoveries Editor
discoveries@thewholenote.com