You might think that the upcoming holiday hiatus would result in a backlog of new material after the fact, and generally speaking that is indeed what happens. But this month I find my desk already agog (sorry, that's a misuse of the word, but one I woke up to this morning as I faced the mounting pile of CDs – perhaps it is I who am agog) with a wealth of offerings all worthy of note. I will endeavour to be brief…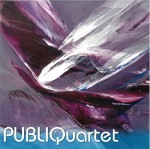 Atop the pile is a recent arrival that reminds me why I was drawn to contemporary music, string quartets in particular, in my formative years. PubliQuartet's eponymous debut release on Concert Artists Guild Records (CAG115 publiquartet.com) grabbed me right from its percussive opening chords. Howie Kenty is not a composer I was previously aware of, but his brief An Impetuous Old Friend seemed just that – rambunctious and familiar, without seeming derivative. As a matter of fact I don't know any of the composers whose work is included here, although I do find touchstones in their music. Jessie Montgomery is a NYC violinist, composer and music educator. I find many of the extended techniques she uses in Break Away reminiscent of the aboriginal sounds that Peter Sculthorpe incorporated into his string quartet writing. The program note however cites hip-hop and electronica as influences. Eugene Birman's String Quartet, a 12-minute single movement "experiment in voicing and containing energy" comes across as a meditation, perhaps with echoes of George Crumb's darker moments. In contrast David Biedenbender's Surface Tension is all rhythmic drive and percussion.
One of PQ's initiatives is a series titled Mind The Gap in which the group tries "to generate an interest in new music and keep traditional classical music relevant to modern audiences…[and] to blur the lines between performer and composer; intertwining compositions from seemingly disparate genres." Two examples of this technique are included, Bird in Paris, juxtaposing Debussy with Charlie Parker and Epistrophy in which Stravinsky's Three Pieces for String Quartet are very effectively overlaid with themes by iconic jazz pianist Thelonious Monk. While I am not usually a fan of such hybrids I found this a convincing exception to the rule and found myself smiling as the two worlds collided and coalesced.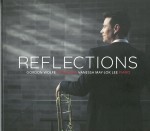 Toronto Symphony principal trombonist Gordon Wolfe (gordwolfe.com) has just released his debut solo CD Reflections, with pianist Vanessa May-lok Lee, and it is a dandy. Wolfe presents a nicely balanced program of lyrical and idiomatic compositions, drawing on international repertoire – by Jacques Castérède, Paul Hindemith and Stjepan Šulek interspersed with Canadian works – that has influenced his own development:. Gary Kulesha says: "I made a deliberate attempt to write music that played against the perceived traditional role of the solo instrument, with the Trombone Sonata (2013) being aerial and lyrical. The trombone's music soars and sings, and never becomes march-like or stentorian." Elizabeth Raum's Fantasy, written as a Christmas present for her husband Richard in 1981, is a delightful, gentle and melodious offering. The penultimate piece – Concertino for Trombone and Piano "Devil or Angel" – was written expressly for this project by Wolfe's mentor Ian McDougall whom he calls "my favourite trombonist on the planet." The (mostly) playful piece is in three descriptively titled movements – Cherub vs Imp; Guardian; Old Nick – which as you might expect gives Wolfe a chance to show off the contrasting aspects of his instrument and his mastery of it.
On Reflections, Wolfe makes a compelling case for the trombone as versatile tenor voice. Without venturing into extended techniques or bizarre effects we are presented with a lyrical portrait of a classical instrument that is all too often treated as a buffoon. Lee's sensitive and well-balanced support adds to the success of the argument. Recorded in the Royal Conservatory's Mazzoleni Hall, the sound is everything you would hope for, intimate yet full.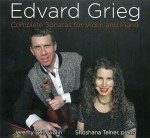 Speaking of maiden voyages, Jeremy Bell who has shared violin duties with Jerzy Kaplanek in Kitchener-Waterloo's Penderecki String Quartet since 1999, has just released his own first solo disc, Edvard Grieg – Complete Sonatas for Violin and Piano (Chestnut Hall Music chestnuthallmusic.com). Of course when I say solo I do not mean unaccompanied and for this project Bell is in fine company with pianist Shoshana Telner who is an equal partner in this virtuosic romantic repertoire. Of course Grieg is known as a nationalist composer and there are a lot of Norwegian folk influences evident in the music. As Bell tells us in his lucid program note, the Sonata No.1 in F Major, where violin and piano imitate Hardanger fiddling, was the first time that the composer introduced a purely national element. The second sonata, written two years later in 1867 takes the nationalism further and then there is a gap of 20 years before the Sonata No.3 in C Minor. This latter, with in Grieg's words, "it's wider horizons," is the one most often heard in the concert hall, but it is the charming and "naïve" first sonata that is my favourite. In all three, presented here in the order 2, 3, 1 – for me saving the best for last – Bell and Telner are obviously in their element, capturing the contrasting moods and meeting the various technical demands with aplomb.
This is an outstanding first release and my only question is what took Bell so long? Some two decades ago he was a prizewinner in the Eckhardt-Gramatté National Music Competition and since then has appeared in a variety of solo roles. I suppose participating in 25 recordings under other auspices, being a member of an internationally renowned fulltime quartet, his teaching duties at Wilfrid Laurier University and seven seasons as director of NUMUS are reasons enough. At any rate this is a very welcome debut. Oh, and in the note he sent along with the disc Bell assured me that this does not presage a separation from the Penderecki Quartet to which he remains devoted.
Once upon a time some musical friend or another, well versed in 17th to 19th century repertoire, challenged me to name an Italian composer whose surname did not end in the letter "i". My interest in 20th-century music gave me perhaps an unfair advantage as I immediately came up with Berio, Nono, Dallapiccola, Malipiero and Maderna. As it turns out, this latter could have counted twice because his family name was Grossato and it was only later that he adopted his mother's maiden name.
Bruno Maderna (1920-1973), who participated in the 1949 international congress on dodecaphony in Milan, is best known as one of the forces behind the summer music courses at Darmstadt, that hot bed of post-war, post-serial composition. Only recently has an earlier and very significant work come to light. Maderna's Requiem was written after his release from Dachau, having being taken prisoner by the SS for his activities as an Italian partisan. "At that moment it was only possible to write a requiem and then to die," he later said. By July 1946 he had accomplished the former and avoided the latter. The hour-long work for four vocal soloists, choir and orchestra was championed by American composer and critic Virgil Thomson but ultimately never performed in Maderna's lifetime. Shortly after completing the work Maderna lost interest in his earlier style as he got more and more engaged with contemporary trends. The score ended up lost on a shelf in the New York State's Purchase College Library and was only rediscovered and published in 2009.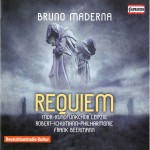 Capriccio (C5231) has just released the world premiere recording of Requiem using a broadcast performance by Deutschlandradio Kultur from 2013 featuring the MDR-Rundfunkchor, Leipzig and the Robert-Schumann-Philharmonie directed by Frank Beermann. The vocal soloists are Diana Tomsche, Kathrin Göring, Bernhard Berchtold and Renatus Mészár. Composed in Maderna's early 20s it shows obvious influences of the iconic works in the genre by Berlioz and Verdi, but more interesting to my ears are the shadows of Bartók, Hindemith and Stravinsky. The use of three pianos in the huge orchestral forces adds to the percussive effect and is also reminiscent of Carmina Burana which Carl Orff had composed a decade earlier. All of these influences aside, it is a strikingly original work and a great testament to the importance of this remarkable prodigy.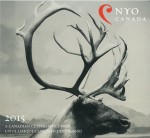 If the CD set 2015 is any indication, under the direction of Michael Francis this year's edition of the National Youth Orchestra of Canada (nyoc.org) lived up to the very high reputation developed over its 55-year history. And it's no wonder, considering the incredibly talented faculty which nurtures the finest young players drawn from across Canada. There are some 40 top-rank, performing musicians/teachers involved, many of whom hold principal positions in professional orchestras, including such luminaries as Marie Bérard (concertmaster Canadian Opera Company), Sarah Jeffrey (principal oboe Toronto Symphony), both alumni of NYO Canada, Stephen Sitarski (concertmaster Hamilton Philharmonic and Esprit Orchestra) and renowned chamber musicians like Mark Fewer and the Gryphon Trio to name just a few. Auditioned from 500 applicants, 90 to 100 musicians between the ages of 16 and 28 receive tuition-free instruction (plus a stipend) which includes a two-week chamber program, three to four weeks of orchestral training, plus a wealth of career development, repertoire analysis and injury prevention information. This is followed by a national or international tour – 2016 will see them perform in Kitchener-Waterloo, Toronto, Montreal and Lisbon, Portugal – and a recording.
2015, recorded at the Schulich School of Music at McGill University, includes two staples – I'm tempted to say stables since these are war horses – of the orchestral repertoire, Holst's The Planets and Rachmaninov's Symphonic Dances. Both receive fully inspired and polished performances which bodes well for the health of orchestral institutions in Canada's future. But more important, for the overall health of Canadian music, is the fact that the young musicians get to work with living composers who have crafted works especially for them. Emilie Cecilia LeBel (b.1979), whose position with the orchestra is funded jointly by RBC and the SOCAN Foundation, composed a very atmospheric work, monograph on bird's eye views, giving them experience with music that is not melodically based but rather concerned with colours and textures. Alfredo Santa Ana (b.1980), commissioned with the assistance of the Canada Council, created Ocaso (dusk), a more traditional orchestral essay full of rich harmonies and dramatic turns. All in all, a very satisfying release.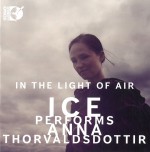 It was the realization of a lifelong dream to spend ten nearly night-less days in Iceland several summers ago, and so I was intrigued when two very different Icelandic projects came my way this past month. As with Emilie LeBel's piece mentioned above, composer Anna Thorvaldsdottir created a very atmospheric work for ICE, the International Contemporary Ensemble which is active in both Chicago and New York. In the Light of Air (DSL-92192 sonoluminus.com) is an extended suite with evocative movement titles Luminance, Serenity, Existence and Remembrance which are connected by Transitions to form a seamless flow for the nearly 40-minute duration of the work. (Somewhat confusingly the CD also contains a piece entitled Transitions for cello and electronics which seems to be a separate work altogether.) Scored for viola, cello, harp, percussion and electronics, In the Light of Air gradually unfolds as we journey through unfamiliar sounds and textures, both instrumental, with many extended techniques, and electronic. There is a visceral low rumbling throughout much of the piece and although there are many "events" along the way, nothing ever really seems to happen. But this is not meant as a criticism. Much like the stark and seemingly barren landscape of Iceland, the closer you look the more you see, or in this case hear. There is wealth of detail for the patient listener.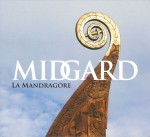 The other project is a vision of what the music of the Vikings – settlers of Iceland – might have sounded like. Midgard (BR8939 bigroundrecords.com), the latest release from Quebec's medieval and world music band La Mandragore, "imagines the music of the Vikings had they had the time and leisure to notate it. Playing folk instruments from the Mediterranean and Scandinavian regions, and singing songs and tales in Swedish, Norwegian, Old Norse and French," the ensemble presents what it calls "an authentic and eclectic collection of Viking-inspired music." The title is the Norse word for Middle Earth and although I'm not convinced that this is what the music of that time and place would have sounded like, I must say I have enjoyed the conceit, and the music.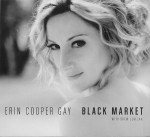 Speaking of eclectic, I'm not sure anything better suits that description than Black Market featuring Erin Cooper Gay and Contraband (erincoopergay.com). It is a stunning release on which Cooper Gay's pure, crystalline soprano voice is featured in convincing renditions of Renaissance settings by John Dowland, José Marin, Tarquinio Merula and Claudio Monteverdi accompanied by period instruments, juxtaposed with clever arrangements by Drew Jurecka of contemporary songs by Jill Barber, Radiohead, Kishi Bashi and Punch Brothers. Somehow Cooper Gay and her cohorts – whose instruments range from harpsichord and lute and all manner of violin family instruments, French horn and clarinets, to qanun (Middle Eastern zither) and Juno (Roland synthesizer) – make what might have seemed like oil and water, into a very palatable mixture indeed. Compelling listening!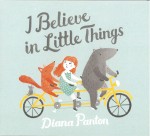 The next disc came in a couple of months ago, but I decided to save it for December as I felt it would make a perfect stocking stuffer for the little ones. I Believe in Little Things is the latest from jazz singer Diana Panton (dianapanton.com) who in this instance presents her own take on some great songs written for young people. The spare and gentle arrangements feature Reg Schwager on guitar, Don Thompson on bass, piano and vibes and some memorable cello solos by Coenraad Bloemendal. Sesame Street's Joe Raposo is amply represented – although I'm sorry Bein' Green is not found here – including the title track, Imagination, Sing and Everybody Sleeps among others. Another Sesame Street standard, The Rainbow Connection, and the Disney classic, When You Wish Upon a Star, are among the most familiar tunes and highlights for me. Panton's own Sleep is a Precious Thing leads to Richard and Robert Sherman's Hushabye Mountain with an extended cello intro. The disc concludes with Stephen Foster's Slumber My Darling. A perfect good night!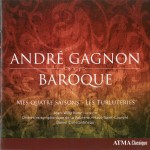 Last issue I talked about symphonic works with organ recorded in the Orchestre symphonique de Montréal's new home and mentioned that the current resident organist is Jean-Willy Kunz. This month I find him in another capacity as harpsichordist on André Gagnon Baroque (ATMA ACD2 2719). Gagnon, the popular Québec pianist and composer, wrote a couple of quasi-baroque suites for piano and orchestra – Mes quatre saisons and Les Turluteries – back in 1969 and 1972 respectively that were great successes when released by Columbia Records. Some four decades later Gagnon has revisited the clever works and given the solo duties to the harpsichord. Kunz shines in these playfully convincing pastiches and the Orchestre symphonique de la Vallée-du-Haut-Saint-Laurent under Daniel Constantineau's direction embraces the project with enthusiasm. Although producing a larger sound than period orchestras, they capture the spirit of the music and play with surprising lightness.
The latter-day Four Seasons takes iconic music from Québec by Pierre Ferland, Félix Leclerc, Claude Léveillée and Gilles Vigneault – you guessed, Winter begins with the classic Mon Pays – all reworked à la Vivaldi. Les Turluteries takes inspiration from songs written or sung by Mary Travers – better known as La Bolduc – in two suites in the style of Bach and Handel. Tongue in cheek, or respectful homage – more likely a bit of both – the project comes off in flying colours. It really is a hoot!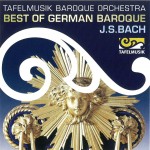 Of course for the real thing it's hard to beat Toronto's own Tafelmusik Baroque Orchestra. They have just released two sampler CDs on Tafelmusik Media which combine recent recordings from Humbercrest United and the Banff Centre with previously released material from CBC Records. Best of German Baroque (TMK1028CD) is actually comprised only of music by JS Bach, but I guess it does indeed not get any better than that. We are presented with various instrumental movements in new arrangements by Alison Mackay along with the full Brandenburg Concerto No.3 with a new cadenza by Julia Wedman. Jeanne Lamon and Aisslinn Nosky are the featured soloists in movements from a sonata and a concerto for two violins, and Ivars Taurins lead the Tafelmusik Chamber Choir in the Gloria in Excelsis Deo BWV191.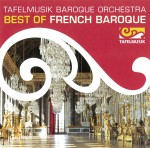 Best of French Baroque (TMK 1029CD) takes a different approach, presenting suites by Marin Marais (from Alcyone), Rameau (Dardanus) and Lully (Phaëton). Once again the Chamber Choir is featured in an extended work, Grand Motet "Dominus regnavit" by Jean-Joseph de Mondonville. Great music, great performances, great sound – great stocking stuffers!
We welcome your feedback and invite submissions. CDs and comments should be sent to: DISCoveries, WholeNote Media Inc., The Centre for Social Innovation, 503 – 720 Bathurst St. Toronto ON M5S 2R4. We also encourage you to visit our website thewholenote.com where you can find added features including direct links to performers, composers and record labels, "buy buttons" for on-line shopping and additional, expanded and archival reviews.
David Olds, DISCoveries Editor
discoveries@thewholenote.com