Summer Pop
I've spoken before in these pages about artistic epiphanies I've had in this life – rounding a corner in the National Gallery in Washington and beholding Dali's The Last Supper, hearing Paul Dolden's The Melting Voice Through Mazes Running at the CBC Young Composers' Competition – and a disc that came my way this month has brought to mind another such enlightening experience. When I was a teenager my ears were opened wide to the alternative music scene by a late-night AM radio show on CKFH called The Open Lid. There were several hosts over the years, but it was during Keith Elshaw's tenure that I really got hooked and it was then that I first heard the music of Fraser and Debolt, a Canadian folk duo who would have a lasting influence on me. Their first album Fraser and Debolt with Ian Guenther was totally acoustic with just two guitars, two intense voices and Guenther's violin. When I heard Pure Spring Water and its atonal "breakdown" segue to their version of the Beatles' Don't Let Me Down I was intrigued and captivated. I didn't sleep much that night and the next day right after school I headed down to the local Sam the Record Man in search of the disc. Of course it turned out that Elshaw was playing an advance copy of the album and I would have to wait for the official release. I didn't sleep much for the rest of that week either.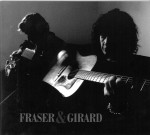 Allan Fraser and Daisy Debolt worked together for five years, parting ways in 1974, but their songs – two albums' worth – have been an integral part of my own repertoire for the past four decades. Debolt fronted a number of projects over the years – I remember one show at Harbourfront in particular where her band included three or four accordions – and was active until her death from cancer in 2011. As far as I know Fraser kept a lower profile, although I confess I have not been following the folk scene much in recent years. That being said, when I received the press release for an upcoming disc by Fraser & Girard (FG001 fraserandgirard.com) my heart raced a bit. Thank goodness I'm now in the position to receive advance copies of things!
It seems that Allan Fraser has found a new kindred musical spirit in Marianne Girard, and although comparisons to the original pairing are inevitable this new duo has developed a voice of its own. Girard's husky contralto doesn't have the shrill edginess of Debolt's high range, but it blends well with Fraser's sometimes gravelly low tenor and I love it when their harmonies are reversed as he takes the high line. The instrumentation is fairly sparse, with the duo's guitars mostly supplemented by acoustic bass and drums with occasional additional guitar, fiddle and pedal steel. The eponymous release is shared about equally between songs by each partner, including Fraser (and Debolt)'s classic Dance Hall Girls and Girard's particularly moving My Name is Carol. Concert note: I know where I'll be on Sunday June 14 – at Hugh's Room for the launch of Fraser & Girard.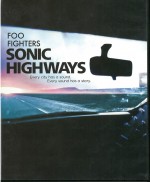 Some months ago I stumbled on the HBO presentation of Foo Fighters: Sonic Highways, an eight-part documentary directed by Foo front man Dave Grohl, and I have spent countless hours over the past few weeks revisiting the series on four RCA DVDs recently released by Sony Music (8887506014-9). Each time I go back to one of the episodes I am enthralled once again; it's surprising how compelling they are. The premise is that the rock band travels to different American cities to explore the musical history of each place, meet some of the legends who have contributed to this history and then record a song written by Grohl, inspired by the time spent there in one of its iconic studios.
The odyssey begins in Chicago where we meet blues icon Buddy Guy and Cheap Trick guitarist Rick Nielson as Grohl explores the various genres that have flourished in the Windy City over the past half-century. Washington D.C. is the next stop where the early punk scene (Bad Brains, Black Flag) is juxtaposed with the Go-Go scene (Trouble Funk). In Nashville we visit the Grand Ole Opry and meet Dolly Parton, Emmylou Harris, Tony Joe White and Zac Brown and learn about the songwriting industry before heading off to Austin for an in-depth look at the 40-year history of the seminal TV show Austin City Limits with its vast range of musical styles and a visit with Willie Nelson. Joe Walsh gives us the lowdown on Hotel California in the L.A. edition, which also features Joan Jett, and we spend some quality time in the desert around Joshua Tree at the Rancho de la Luna studio. Each of the episodes focuses on a historically significant recording venue and in New Orleans the Foo Fighters set up in Preservation Hall and meet Doctor John, Alain Toussaint and one of the Neville Brothers, among a host of others. The Seattle segment is particularly poignant with its focus on the grunge scene epitomized by Kurt Cobain and Nirvana (although lead singer and guitarist for the Foo Fighters, Grohl was the drummer for Nirvana), the Sub Pop label and Heart. The final episode takes place in America's musical Mecca, New York City, with its myriad cultures and histories. We meet Woody Guthrie's daughter, Gene Simmons and Chuck D to name just a few, visit the Brill Building, CBGB – did you know that stood for Country, Blue-Grass and Blues? Quite a misnomer for the breeding ground of punk and new wave! – Electric Lady studio and the Magic Shop on a whirlwind tour that has left my head spinning. The above-mentioned names are just a sampling of the dozens of luminaries who appear throughout the series, with special mention going to Steve Earle who turns up time and again with a plethora of insights. A wealth of archival footage is seamlessly blended into the production, adding historical credence to the documentary.
One of the press quotes from the DVD package states "Skillfully directed and packed with decades-spanning trivia" (Entertainment Weekly). I find this to be almost a travesty in the way it trivializes the concept and content of the series. The history of American popular music (in some of its edgiest forms) is so well presented in such depth here that I would not hesitate to recommend it to anyone curious about life in the U.S.A. in the past half century. My wife says I can quote her, but I will paraphrase: Even if you're not interested in the music per se, the series is compelling and illuminating.
The only regret I have is that Grohl and company did not make it to Detroit for a taste of Motown Soul. I hope that if there is a sequel the sonic highway will lead to the Motor City.
This Just In
As this issue of The WholeNote spans the three summer months I want to devote the rest of this column to a few titles that fell through the cracks over the past year and a number of very worthy new releases that arrived too late to receive full reviews but which I think you should know about sooner rather than later (i.e. September). First the new ones…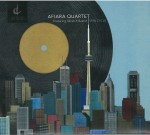 At time of writing, the second annual 21C Festival is about to get underway at the Royal Conservatory and as an example of the growing interest generated by the festival – in part sparked by last month's WholeNote cover art – comes the surprising news that the Spin Cycle event, originally slated for Mazzoleni Hall, has been moved into the much larger Koerner Hall due to the high demand for tickets. This project brings together the Afiara Quartet, DJ Skratch Bastid and four young Toronto composers, Dinuk Wijeratne, Laura Silberberg, Rob Teehan and Kevin Lau. Each of the composers has written short, multi-movement acoustic string quartets which have been recorded by Afiara and are then subjected to the multi-layered treatments for which the award-winning DJ is renowned. One could be forgiven for thinking the experiment might end there, but not so, gentle reader. The composers were offered the opportunity to respond by creating yet a third iteration with new material added to the mix. Although the composers are all relatively conservative in their approach and the original works are quite tonal, by the time the re-mix and responses have been added there is an intriguing depth and complexity to the final creations which cross a variety of cultural and aesthetic borders. For those of you who missed the May 23 event, the concert also served as the launch for a double CD of the works (Centrediscs CMCCD 21215 musiccentre.ca) that is also available on iTunes.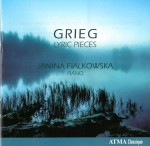 Grieg – Lyric Pieces (ATMA ACD2 2696) is the latest from Canadian pianist Janina Fialkowska and it seems a bit of a departure from her usual Austro-Hungarian repertoire (from Mozart to Liszt) and the Polish music of her own heritage (Chopin, Moszkowski, Padereski and Szymanowski). Fialkowska seems very much at home on this northern excursion however, her deft touch perfectly suited to bringing these idiomatic Norwegian sketches to life. Edvard Grieg (1843-1907) wrote his Lyric Pieces, ten books of them over the span of his career, beginning in 1867 upon his return to Norway after studies in Germany. The first book proved so successful that his publisher requested more and more, so many in fact that in 1901 Grieg finished the last set with Remembrances, which took him full circle back to the first Arietta and he called a halt saying that "they are surrounding me like lice and fleas…"
Fialkowska has made an effective selection of 25 of the pieces, charming vignettes such as Berceuse, Butterfly, Sylph and of course the familiar Wedding Day at Troldhaugen with each of the volumes represented. There is very little virtuosity on display here, with most of the selections pastoral, but the selection is varied enough to keep our attention throughout – a quiet day in the country, with moments of exuberance such as the Norwegian Dance with its suggestion of Hardanger-style fiddling and hints of dread such as March of the Trolls and Evening in the Mountains. Fialkowska will get to experience all of this first-hand in mid-June when she is off to Tromsö, Norway as a jury member for the Top of the World International Piano Competition.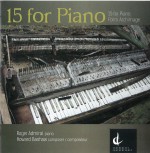 15 for Piano (Centrediscs CMCCD 21115) features music by Alberta-based composer Howard Bashaw performed by Roger Admiral and it has the distinction of being the first CD recorded in the Canadian Music Centre's concert space at 20 St. Joseph St. on their Steingraeber & Söhne piano. Both the instrument and recording engineer John S. Gray, not to mention the pianist himself, have their mettle tested by the vast dynamic range and physicality of the music, and all pass with flying colours. I sometimes kid that to me piano recitals are ultimately "just so much banging" but in this instance I cannot get enough. Admiral can bang with the best of them and Bashaw has a way of making relentless percussive density extremely exciting and musical. This is not to say that the 40-minute-plus 2012 title piece is without respite. There are beautiful moments when the tension relaxes and we are drawn into a very different world where time is suspended and we are able to catch a breath. And even some of the ostinato passages are quiet and gentle, belying the furious activity happening in miniature.
Admiral is also featured in a 2010 reworking of Bashaw's Form Archimage, an older work originally performed and recorded by Marc Couroux. Once again the piece is a study in contrasts, with manic extended movements – Toccata, Counterpoint: where fractals meet Alberti, Celestarium II, Reverbatory and Barn Burner with Jacob's Ladder – interspersed without pause among brief quiet sections. This latter was recorded in Convocation Hall at the University of Alberta, where both pianist and composer teach. As with the CMC recording, the sound here is immaculate. Future concert note: Howard Bashaw is currently writing an extended work for quadruple quartet, piano and percussion for New Music Concerts which will be performed in the spring of 2016.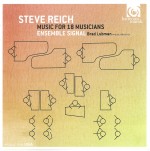 Also coming next spring, Soundstreams is celebrating Steve Reich's 80th birthday with a concert featuring three of his seminal works. Clapping Music, Tehillim and the iconic Music for 18 Musicians will be performed at Massey Hall on April 14, 2016. There is a new recording of Music for 18 Musicians featuring New York's Ensemble Signal under the direction of Brad Lubman (Harmonia Mundi 907608) and if you are not familiar with this classic minimalist work for four pianos, three marimbas, two xylophones, vibraphone, two clarinets, violin, cello and four voices, I would recommend this recording. As Steve Reich himself says, "Signal has made an extraordinary recording of Music for 18 Musicians. Fast moving, spot on and emotionally charged." With top rank Toronto musicians engaged for the Massey Hall performance I am sure we can expect nothing less from Soundstreams.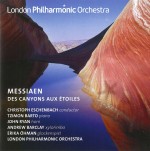 Speaking of iconic works of contemporary music, the London Philharmonic Orchestra has just released Des Canyons Aux Étoiles by Olivier Messiaen under the direction of Christoph Eschenbach (LPO – 0083). At 100 minutes in length, From the Canyons to the Stars (1971-74) draws extensively on Messiaen's signature birdsong transcriptions for much of its musical material. As always it is also a paean to the glory of God, this time in the context of the natural beauty of Bryce Canyon National Park in Utah, which Messiaen visited in 1972 in conjunction with this commission from an American philanthropist. The full forces of the modern symphony orchestra are supplemented with four soloists: Tzimon Barto (piano), John Ryan (horn), Andrew Barclay (xylorimba) and Erika Öhman (glockenspiel), all of whom rise to the occasion. Highly recommended.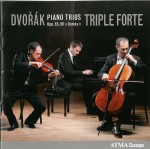 Canada's triple threat Triple Forte – Jasper Wood, violin; Yegor Dyachov, cello; David Jalbert, piano – have a new recording of Dvořák Piano Trios (ATMA ACD2 2691) and as one would expect it is a treasure. Founded in 2003 this trio comprises three top soloists who work together as a finely oiled machine. Their debut disc in 2012 of music by Ravel, Shostakovich and Ives showed them to be at home in 20th-century idioms. This proves no less true of the preceding century with these captivating performances of two of the pinnacles of Romantic chamber repertoire, the Trio in F Minor, Op.65 and the "Dumky" Trio in E Minor, Op.90, Dvořák's third and fourth ventures into this genre. Although the opus numbers suggest a larger gap, the two works were written within a span of seven years, in 1883 and 1890. The first is set in the usual four-movement form, opening with a majestic and expansive Allegro ma non troppo replete with melodies reminiscent of Schumann and Mendelssohn. The "Dumky," dating from the height of the composer's Slavic period, is a set of six contrasting movements all based on the Ukrainian Dumka folksong form. In both works the strength (i.e. forte) of each of the players is allowed to shine while goading the others on to new heights in performances that exemplify the group's name.

Berlin Sonatas (Passacaille 1006 passacaille.be) features 18th-century works by Abel, J.C.F. and C.P.E. Bach, Benda, Kirnberger and Graun performed by Elinor Frey on five-string cello and Lorenzo Ghielmi on a Silbermann fortepiano (known at the time as a "Cembalo con il forte e piano" due to its ability to produce sounds both loudly and softly, unlike the harpsichord with its limited dynamic range). Frey provides an extended essay to explain why she feels a five-string cello is appropriate, and likely originally intended, for this repertoire. She makes a strong case for the instrument, not only in her writing but more particularly in her performance, especially in two violin solo works by Benda, here heard one octave below their intended pitch. One intriguing aspect of the keyboard used here is a "stop" heard in the final movement of Carl Friedrich Abel's Sonata in G Major which makes it sound like a hackbrett (hammered-dulcimer). I had understood that the prepared piano had been invented by American Henry Cowell in the early 20th century and further developed by John Cage in the 40s, but it seems that piano-maker Gottfried Silbermann (1783-1853) beat them to the punch a century earlier. He developed a technique for replicating the sound on his keyboard instruments with a device he called the pantaleone in honour of the hackbrett virtuoso Pantaleone Hebenstreit.
Catching up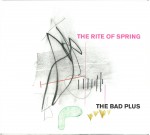 The first of the discs overlooked at the time of their release that I want to bring to your attention is a 2014 realization of The Rite of Spring in a surprising orchestration for piano, string bass and drum kit by the jazz combo The Bad Plus (Sony Masterworks 88843 02405 2), primarily known for their avant-garde approach to jazz, tinged with hints of rock and pop. I was particularly impressed with their convincing recreation of Stravinsky's score using only the minimal tools of their trio. Comprised of Ethan Iverson (piano), Reid Anderson (bass and electronics, mostly involving treatments and layerings of the piano part in the introductory section of the piece) and David King (drums), the group developed this project during a year-long residency at Duke University in 2010-2011. The result has to be heard to be believed. With the exception of the addition of a brief and unnecessary percussive coda following Stravinsky's final chord, the trio stays true to the original score and gives a remarkable performance using only limited resources. Highly recommended!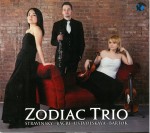 Streamlined Stravinsky is also a feature of a disc by the Zodiac Trio (Blue Griffin BGR257 bluegriffin.com) although in this instance the reduction is the work of the composer himself. L'Histoire du Soldat was originally written as a theatrical piece for three speakers – soldier, devil and narrator – dancer and seven instruments based on a Russian folk tale. The sponsor of the piece, Werner Reinhart, was an excellent amateur clarinetist and the year after its 1918 theatrical debut in Lausanne Stravinsky made a suite of five movements for clarinet, violin and piano. Stripped to the bare bones, this already skeletal work – said to be a reflection of the depleted supply of musicians as a result of the Great War – is still very effective, as Zodiac's dedicated performance proves.
The group – Kliment Krylovsky (clarinet), Vanessa Mollard (violin) and Riko Higuma (piano) – was formed at the Manhattan School of Music in 2006 and its goal is "to etch this instrumentation into the ranks of chamber music's dominant combinations." To this end they commission works and tour extensively. Their 2010 debut recording featured original works but this latest draws on existing repertoire. The Stravinsky Suite notwithstanding it is Bartók's Contrasts, written for Benny Goodman and Joseph Szigeti, which is generally considered to have launched this genre. Zodiac gives Contrasts an exuberant and idiomatic performance, confirming its place at the head of the table. The disc also includes the world premiere recording of the somewhat anachronistic A Smiling Suite by French composer Nicolas Bacri, and a moving (and haunting) early work by Shostakovich protégé Galina Ustvolskaya.
We welcome your feedback and invite submissions. CDs and comments should be sent to: DISCoveries, WholeNote Media Inc., The Centre for Social Innovation, 503 – 720 Bathurst St. Toronto ON M5S 2R4. We also encourage you to visit our website thewholenote.com where you can find added features including direct links to performers, composers and record labels, "buy buttons" for online shopping and additional, expanded and archival reviews.
David Olds, DISCoveries Editor
discoveries@thewholenote.com