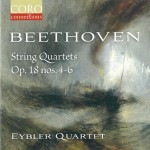 The much-anticipated second and final volume of the Beethoven String Quartets Op.18 (Nos.4-6) in groundbreaking performances on period instruments by Toronto's Eybler Quartet is finally here, and it was well worth the wait (CORO Connections COR16174 eyblerquartet.com).
Beethoven's metronome markings, viewed by many as impossibly fast, have long been the subject of heated debate, and the Eybler's decision to take them head-on and see what they revealed created quite a stir when the first volume was released last year (reviewed here in April 2018). The astonishing speed of some of the movements had some reviewers shaking their heads even while acknowledging the brilliant playing, Gramophone going so far as to call it – in a not entirely negative way, given the wit and humour the Eybler Quartet found in Beethoven's writing – "straight-up hilarious."
The three works on this second volume don't seem quite as radically fast, perhaps because our ears know what to expect this time, but the performance standard remains consistent – technique, clarity, intonation and ensemble playing are all stunning in performances full of depth and life.
Violist Patrick Jordan's intelligent and insightful booklet notes add a great deal to an understanding of the performance approach, in particular his illuminating comments on tactus, the sense of a relatively steady and consistent pulse within a movement.
It's not often that you encounter performances that challenge your preconceptions and radically and permanently change how you hear certain core repertoire works, but this indispensable set does exactly that.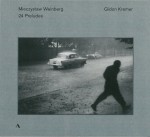 When he was a student in 1960s' Moscow, Gidon Kremer frequently saw and heard the composer and pianist Mieczysław Weinberg in performance although, despite his interest in composers negatively affected by Soviet ideology, he never met him. Kremer has done more than most in recent years to promote Weinberg's music, and now adds a personal contribution with his brilliantly successful arrangements for solo violin of Weinberg's 24 Preludes for Violoncello Solo, Op.100 (Accentus Music ACC 30476 naxosdirect.com).
The preludes, written in 1969 but only premiered in 1995, were dedicated to Rostropovich, who never played them. They are complex pieces full of quotations from works in Rostropovich's repertoire as well as referencing other composers and folk songs. The transfer from cello to violin apparently presented few major challenges, Kremer noting that "only a few of the pieces needed to be put into a different tonality."
His superb performance befits such a towering achievement, one which is a monumental addition to the solo violin repertoire.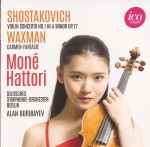 The young Japanese violinist Moné Hattori was only 16 when she recorded her astonishing debut CD. Released in Japan in late 2016 it has now been given a world-wide release on International Classics Artists (ICAC 5156 naxos.com).
It features outstanding performances of the Shostakovich Violin Concerto No.1 in A Minor Op.77 and Franz Waxman's Carmen-Fantasie with the Deutsches Symphonie-Orchester Berlin under Alan Buribayev. Hattori is dazzling in the Waxman and is quite superb in a commanding performance of the Shostakovich. She has a sumptuous tone, flawless technique, emotional depth and physical strength, and wrings every drop of emotion from this deeply personal work.
Hattori has been active mostly in Japan and Asia, although she is making inroads in Europe this year. She is clearly one to watch.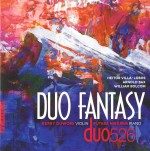 duo 526, the pairing of Canadian violinist Kerry DuWors and Japanese pianist Futaba Niekawa, is in fine form on Duo Fantasy, a CD featuring works by Heitor Villa-Lobos, Arnold Bax and William Bolcom (Navona NV6231 navonarecords.com).
Villa-Lobos' Sonata Fantasia No.2 was completed in 1914 although not published until the early 1950s. It's a lovely work that reflects many of the musical influences of the period.
The English Bax is represented by the substantial four-movement Violin Sonata No.2, completed in 1915 and revised in 1920. It's another very attractive and compelling work, full of contrast and with much writing of great beauty.
Bolcom's Duo Fantasy from 1973 is exactly what you would expect from this wonderfully eclectic American musician – a kaleidoscope of popular styles leading to a quite unexpected ending.
DuWors plays with a commanding combination of strength, sweetness and brightness, fully supported by Niekawa's rich, expansive piano playing.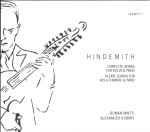 On Hindemith Complete Works for Violin & Piano violinist Roman Mints and pianist Alexander Kobrin give quite superb performances of the four violin sonatas – in E-flat Op.11 No.1 and in D Op.11 No.2 (1918), in E (1935) and in C (1938) – together with the Trauermusik from 1936, the Meditation from the ballet Nobilissima Visione (1938) and the Sonata for Viola d'amore and Piano, "Kleine Sonate" Op.25 No.2 from 1922 (Quartz QTZ 2132 quartzmusic.com)
Mints in particular plays with tremendous strength, power and brilliance in music that clearly has special meaning for him. The Sonata in D was "the first window into contemporary music" for the 13-year-old Mints; later Hindemith was his "window into Romantic music" and the composer continues to hold a special place in Mints' heart. It's certainly difficult to imagine better performances of these fascinating works.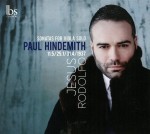 There's more terrific Hindemith playing on Hindemith Sonatas for Viola Solo by the Spanish violist Jesus Rodolfo (IBS Classical IBS52019 naxosdirect.com)
The three numbered Sonatas for Viola Solo – Op.11 No.5 (1919), Op.25 No.1 (1922) and Op.31 No.4 (1924) – together with the Sonata for Viola Solo from 1937 are challenging and extremely difficult works by a composer who was himself a world-class violist. They are often strident and dissonant, but there is more than enough lyrical and tonal writing to make them compelling listening.
Rodolfo plays with a deep, rich tone and a commanding technique in performances that hold you from beginning to end.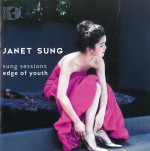 On Edge of Youth, her first recording for the Sono Luminus label, violinist Janet Sung presents a program of works that she feels were significant in her development of a more mature musical voice (DSL-92230 sono-luminus.squarespace.com).
Two 20th-century masterpieces – George Enescu's astonishingly original Impressions d'enfance Op.28 and Benjamin Britten's early Suite for Violin and Piano Op.6 – are paired with three recent compositions: Missy Mazzoli's Dissolve, O My Heart (2011) and Gabriel Prokofiev's Sleeveless Scherzo (2007), both for solo violin; and Dan Visconti's Rave-Up for violin and piano (2012). William Wolfram is the excellent pianist in the duo pieces.
Sung's technique and musicianship are quite superb, hardly surprising for someone who studied with both Josef Gingold and Dorothy DeLay.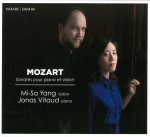 Four violin sonatas from the middle of Mozart's canon are featured on Mozart sonates pour piano et violon, with violinist Mi-Sa Yang and pianist Jonas Vitaud (Mirare MIR420 mirare.fr). The two Sonatas in E Minor K304 and D Major K306 are from the six sonatas finished in Paris in 1778 and known as the Palatine Sonatas, while the two Sonatas in G Major K379 and E-flat Major K380 are also from a set of six, the Viennese sonatas of 1781.
There's a lovely balance here, with a clear, resonant sound. Yang's tone is warm and sensitive with a judicious use of vibrato, and there is equally fine playing from Vitaud. The two Palatine sonatas feature particularly strong playing, with excellent articulation and intelligent nuance.
The CD doesn't appear to be intended as part of an ongoing series, but as a one-off with almost 80 minutes of music it's certainly a very worthwhile release.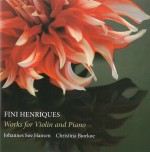 Fini Henriques Works for Violin and Piano features 21 short pieces plus two multi-movement collections from the period 1899-1923 by a composer who was one of the most popular Danish musical figures of his time. Violinist Johannes Søe Hansen and pianist Christina Bjørkøe are the performers on Denmark's national record label (Dacapo 8.226151 naxos.com).
Henriques enjoyed a stellar career as a virtuoso violinist, and clearly knew how to write for his instrument. He was at his most effective with short recital pieces, the excellent booklet notes describing him as "almost unrivalled in his ability to compose small pieces with a sharp characterisation – works with charm and warm-heartedness." And they are exactly that – lovely works, light but never trivial, and beautifully played and recorded on an absolutely delightful CD.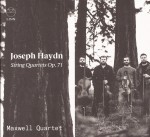 Joseph Haydn String Quartets Op.71 is the excellent new CD from Scotland's Maxwell Quartet (LINN CKD 602 naxosdirect.com).
The quartet's perceptive booklet notes make it clear that they have a strong affinity for Haydn's quartets, and it really shows in warm, sympathetic performances of the quartets No.1 in B-flat Major, No.2 in D Major and No.3 in E-flat Major. Each quartet is followed by a "Scottish epilogue" – Gaelic folk and fiddle tunes by the likes of James Scott Skinner and Niel Gow, arranged by the quartet members and with one written by Maxwell violinist George Smith. It's an extremely effective addition, fully supporting the ensemble's view that "just like Haydn's quartets, this is music that is capable of speaking to everyone." All in all, a lovely CD.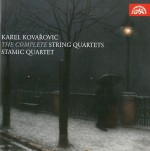 The three string quartets of the Czech composer Karel Kovařovic (1862-1920) were never published, the source material for the world premiere recordings of The Complete String Quartets by the Czech Stamic Quartet being the manuscripts in the National Museum – Czech Museum of Music in Prague (Supraphon SU 4267-2 supraphon.com).
There is much to remind you of Smetana and Dvořák here, so consequently much to enjoy, from the 17-year-old composer's Quartet No.1 in D Major from 1879, through the substantial Quartet No.2 in A Minor from 1887 (dedicated to Dvořák and admired by him) to the unfinished Quartet No.3 in G Major from 1894 – there is no fourth movement and the third remains incomplete but performable.
The Stamic Quartet was formed in 1985 – the second violin and viola are original members – and is clearly in its element here on a generous (at over 80 minutes) and beautifully played and recorded CD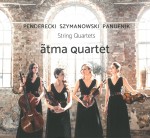 Poland's Ãtma Quartet chose relatively brief but engrossing works by three 20th-century Polish composers for their debut CD, Penderecki Szymanowski Panufnik String Quartets (CD Accord ACD 252-2 naxosdirect.com).
Karol Szymanowski's Quartet No.2 Op.56, written in 1927 for a Philadelphia competition (it lost out to quartets by Bartók and Casella) was actually the first he completed. Its three movements total less than 18 minutes, but it's a very attractive work amply demonstrating the composer's distinctive style and sound.
Andrzej Panufnik's Quartet No.3 Paper-Cuts from 1990 is even shorter at less than 11 minutes despite having five sections which explore various aspects of string playing. Krzysztof Penderecki's Quartet No.3 Leaves of an Unwritten Diary is a single-movement but episodic work lasting 18 minutes.
The performances of these fascinating works are top-notch on a very impressive debut album.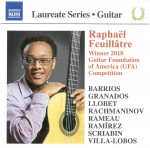 Classical guitarist Raphaël Feuillâtre, the winner of the 2018 Guitar Foundation of America Competition, is simply outstanding in a recital of transcriptions and original works on the Naxos Laureate Series (8.574127 naxos.com).
The transcriptions are of works by Ariel Ramírez, Rameau, Scriabin and Rachmaninov, with Feuillâtre's own transcription of the Granados 8 Valses poéticos particularly dazzling, while the original works are by Agustín Barrios Mangoré, Heitor Villa-Lobos and – a particularly virtuosic showpiece – Miguel Llobet Solés' Variations on a Theme of Sor, Op.15.
Feuillâtre's playing is technically superb – clean, sensitive and nuanced, and with a sense of style and phrase to match the virtuosity. There's a complete absence of left-hand noise in the resonant recording, engineered and produced by the always reliable Norbert Kraft and Bonnie Silver in Florida.