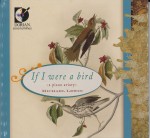 If I Were a Bird - A Piano Aviary
Michael Lewin
Dorian Sono Luminus DSL-92103
Olivier Messiaen once opined that birds were probably the greatest musicians to inhabit our planet, and they have indeed been inspiring many a composer and musician for centuries. With this disc, Michael Lewin pays homage to our feathered muses with a fascinating and entertaining mixture of works for solo piano.
Music by a rich array of composers is found here, and the diversity works brilliantly. There are whimsical offerings by Hoffman, MacDowell and Jensen; touches of delicate melancholy by Grieg, Granados and Schumann; and Rameau and Daquin are tastefully played on a Steinway concert grand. Transcriptions of Glinka, Saint-Saëns, Alabieff and Stravinsky are included, of which the Danse infernale from Firebird is most grand; and Messiaen himself is exquisitely represented by The Dove, written when he was twenty. Lewin also knocks off an enthusiastic rendition of the Joplinesque Turkey in the Straw and it fits the program to perfection.
The pacing of this 'piano aviary' is delightful and Lewin plays to dazzling and touchingly expressive effect. Highlights for me are the Messiaen and Schumann, and his renditions of Ravel's Sad Birds and Cyril Scott's Water Wagtail, but I will listen to this entire disc repeatedly with great pleasure. Kudos also to the designer of the booklet in which this CD is housed – the design with its rich colours and elegant illustrations is as impressive as the music within.