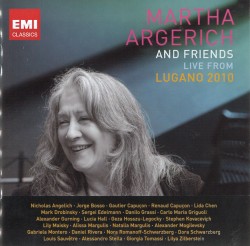 Live from Lugano 2010
Martha Argerich and Friends
EMI 0 70836 2
Once again, in June 2010 in Lugano (Switzerland) "the hills are alive with the sound of music." Those lucky enough to find a hotel room can enjoy Martha Argerich's famous festival with many of today's most talented young musicians playing solo and chamber music. Martha is as good as ever but her interests now extend towards a) teaching and inspiring the young and b) getting involved with chamber works as well as new adventurous projects, new music and even jazz. This year, apart from nearly 20 young artists, we have her usual stalwarts like the amazing brothers, violinist Renaud and cellist Gautier Capuçon and even her ex-husband the famous pianist Stephen Kovacevich.
2010 being the year of 200th anniversaries for Schumann and Chopin these are dutifully celebrated with Schumann's Violin Sonata in a minor played beautifully by Renaud Capuçon and Argerich and his Adagio and Allegro Op. 70 for cello and piano, performed with Gautier Capuçon. To honour Chopin there is a wonderfully relaxed performance of one of Martha's long time favourites the E minor piano concerto.
But here ends the "traditional" part and the "adventurous" now begins. First comes a fiendishly difficult transcription for two pianos of Liszt's Les Preludes presaging next year's Liszt celebrations. Erich Korngold's rarely heard, feverishly overheated post-Straussian Piano Quintet still harkens back to late Romanticism but not the next work. Bartok's Sonata for 2 pianos and percussion is from the composer's "barbaric" period, a relentlessly percussive, uncompromising piece. If some listeners think it is "ugly" then Bartok actually achieved his purpose. It is played with great aplomb and exuberance by Argerich and Kovacevich. It had already been recorded by these two but alas that disc was deleted from the catalogue. Now with this set thankfully it is back.
I doubt Stravinsky ever heard Carlo Maria Griguoli's three piano version of the Firebird Suite but he would certainly have approved of this stunning virtuoso arrangement played by three young pianists including the arranger himself. Now for a suitable ending of this fascinating set, terrifying noises of the big city emanate from Alfred Schnittke's Piano Quintet (1976). Fully atonal with plenty of quarter tones we hear sirens of an ambulance at one point and at another unbearable noise of a swarm of hornets closing in around one's head. Yet at the end ironically there is heavenly peace inspired by Beethoven's Pastoral Symphony.