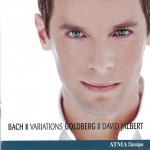 Bach – Goldberg Variations
David Jalbert
ATMA ACD2 2557
Bach – Goldberg Variations
Daniel Barenboim
EuroArts 2066778
We have so many "Goldbergs" to choose from. In fact Goldbergitis fever insures us that one or more new versions will be released each year. What differentiates each of these performances? There is also the question of whether any of the new CDs will ever replace the two iconic Glenn Gould recordings. Often the choice is subjective and sentimental. I grew up listening to the Gould version but I also love Andras Schiff, Murray Perahia and the very personal and unique performance by Simone Dinnerstein. What puts new CDs in the top echelon of Goldberg recordings? I believe it is the quality of tone, effortless technique, virtuosic control and command of the contrapuntal lines, orchestrating the piano and the indecipherable quotient of magic.
David Jalbert on the ATMA label certainly has the virtuoso technique and articulation to be in the elite few. The opening Aria was beautifully shaded and his control of quick passagework in succeeding variations was crisp and articulate. I enjoyed his smooth lines which created an extremely musical flow in spite of the many embellishments and busy counterpoint. His playing was always controlled, yet incisive without being metronomic. His sensitivity to the tempi for each variation made for engaged listening. Jalbert's tonal quality is not as warm and sweet as Dinnerstein's or Perahia's but his command and power at the keyboard is unquestionable. I found his trills to be remarkably even and precise. What makes this recording work for me is that Jalbert discovered the thread that links each variation and he made the performance a cohesive masterpiece.
I also like the liner notes by Robert Rival. I found his writing very informative and revealing from a composer's perspective. It brought to life Bach's complex and virtuosic composition technique in creating this remarkable and timeless work of art.
Released this year, the DVD of Daniel Barenboim's performance of Bach's Goldberg Variations was actually recorded in 1992 and I was surprised to hear such a sensitive and musical interpretation. Past performances have not always lived up to expectations in tonal quality. This performance exudes energy and deep emotional commitment to the work. Barenboim uses a wide range of dynamics and articulations to create the instrumental sounds from Bach's time.
He makes pianistic references to the famous high trumpet, the oboe, the string family and the organ. Barenboim has created an orchestra from the piano. This is no surprise as he is a highly respected conductor and it shows in his "orchestration" of each variation. His faster variations are dance-like and real toe-tappers. However, despite the speed or tempo he never loses his refined touch and exquisite control of the rhythm and ornaments. Each variation breathes musically, dances, sings or speaks in a contemplative manner. Although linked, each variation tells a unique story.
Anthony Short in his excellent program notes wrote that if Bach's early biographer Johann Forkel is to be believed, when Bach's extended family got together they often struck up a chorale that would mix spiritual and serious songs with comic and scabrous popular tunes of the era. These improvising harmonies produced a quodlibet which is a contrapuntal combination of several different popular songs featuring a selection of lowly brassica vegetables such as the tune for "Cabbages and turnips have driven me away, had my Mother cooked meat, I'd have opted to stay." I feel that Barenboim captured the spirit of this quodlibet in several of the variations as well as the reflective and spiritual quality of some of the other variations.
Both Barenboim and Jalbert have virtuosic techniques and the ability to cast a spell when performing this work. Both have the communicative and musical skills to take their place in the elite group of Goldberg performers. If I had to choose between Jalbert and Barenboim I would pick Barenboim. His playing had a greater range of tonal colour and dynamics. I don't mean dynamics as simply loud and soft but dynamics that created different moods and instrumental soundscapes. I also thought his warm touch gave him a slight edge over Jalbert. I would love to hear Jalbert record the Goldberg many years from now. I was mesmerized by his recording now but what an amazing performance he will give in the years to come. We are so lucky to have an artist like David Jalbert in Canada.
Picking your favorite Goldberg CD is such a subjective experience. Do any of them knock Gould off his iconic pedestal? Depends on the day but I believe that these two recent performances join him in that special group with others which are certain to come. This is indeed a testament to the great J.S. Bach whose music continues to be such a joy and revelation that we forever keep searching and learning from his masterpieces.